Tire Center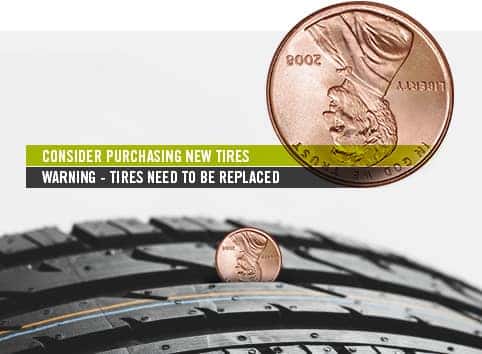 Easy Tip to Determine if You Need New Tires Place a penny into the tread, with Lincoln's head pointing down. If you can still see the top of his head, the tread is dangerously low. Most modern tires, however, have wear bars: bits of rubber woven into the pattern at a specific depth. If you can see this, it's time to get new tires.
Why Brad Deery Motors? Price match guarantee on tires. Brad Deery Motors will match the price of any local competitor's price on tires.  This guarantees that you are receiving the best price on your new tires.  In addition to the price match, when you purchase your tires from us, we will also give you free tire rotation and balancing for the life of the tires. When you need service work done we are the place to go.  We will beat any local competitor's price on service work.
Would you like a quote?  Please fill out this form below and we will contact you with your new tire quote.
Tire Rebate
We are currently updating our Specials. Please check back soon.
All Makes & Models Tires in Maquoketa | Near Quad Cities
Makes and Models of Tires
Our dealership carries all makes & models tires in Maquoketa. When you need to get tire replacement or repair, we can help you out with the right options. Our dealership generally doesn't recommend repairs unless the tire is barely used. Most repairs generally end up needing a new tire at some point, so it makes sense to get the new tire as soon as possible to ensure your vehicle continues to run as expected. If you prefer a particular brand of tire, you can talk with us and we can let you know what we have in stock. We will do our best to accommodate any of your requests.
Free 1 Year Road Hazard Protection
Our tires come with a free 1-year road hazard protection.  This is a zero deductible protection that we offer.  It covers the repair and/or replacement of the tire from road hazards such as nails, potholes, etc. up to one year from the date of purchase.
Price Match Guarantee
We offer a price match guarantee.  If you find your tires at a better price (must be the same tires) within 30 days of purchase, we will match it.  You just need to bring in the written/printed estimate from the competitor.
Specific Conditions and Handling Considerations
If you plan to drive in the snow, many people get a tire change to meet these specific conditions. Keeping a winter tire set on hand makes a lot of sense so that you can get better handling. If you're not sure of the kind of driving conditions you anticipate, then it makes sense to get an all-season tire. While all-season tire sets can work in both the winter and summer, they don't really provide exceptional handling in either situation. We can talk with you about all of the different types of tire options. A winter tire set works great in the winter, but they need to be replaced once the snow thaws. Tires in Maquoketa at our dealership serving Maquoketa Quad Cities Cedar Rapids Dubuque.
Finding the Right Tire
Our dealership carries all makes & models tires in Maquoketa, and we can help you find the right size. The size of your tire is printed on the side of your tire. Using a combination of letters and numbers, you can find the right tire or just let us do it for you. If you see a P or LT before a series of numbers, this typically comes immediately before the three-digit tire width. For example, P indicates Passenger and LT indicates a Light Truck. In the example, P205/55R17, 205 indicates the width, 55 indicates the aspect ratio, the R indicates construction type, and the last number indicates the wheel diameter. Depending on your make and model of vehicle, you also may see additional numbers.
How Many Tires Do You Need?
Generally, it's not recommended that you replace only one tire. If you replace only one tire, it's a good idea to replace the tire on the opposite side as well. This helps promote even wear, and it can help you avoid pulling, poor handling, and less effective braking. If you need to replace more than one tire, we have a system that allows you to ensure the vehicle gets even wear. Generally, with a front-wheel-drive vehicle, we like to put the older ones in the front. The new ones go in the back. It's not a great idea to replace only three of them. When you do this, you can run into complications with mismatched tread. Replacing all four offers the best approach, and it can help you maintain the most effective stopping power. Tires in Maquoketa at our dealership serving Maquoketa Quad Cities Cedar Rapids Dubuque.
Talk with our dealership about any of your questions or concerns. You should know that the cheaper tire sets are cheap for a reason. While they do tend to last longer because they are made of hard rubber, they won't help you stop as quickly. In fact, really cheap tire sets can provide a downright hazard in the rain. You may find yourself completely without traction. While the hard rubber makes them last a long time and gives you good durability, the road beneath you will feel much more jarring and you lose much of the grip.