New Chevrolet 2022 Chevrolet Silverado 1500 vs 2021 Nissan TITAN XD for Sale in Maquoketa IA l Quad Cities
2022 Chevrolet Silverado 1500 vs 2021 Nissan TITAN XD


View Inventory
This is an excellent time to be in the market for a full-size pickup because the 2022 Chevrolet Silverado 1500 has arrived at Brad Deery Motors. Our Chevrolet dealership serving Davenport Dubuque Maquoketa Clinton Iowa has the new Silverado 1500 to test-drive, purchase and lease, and we have some fantastic brand incentives available to help you save. This is a big year for the Silverado in that it receives an exterior redesign, adds new tech and introduces a new off-road trim level: the ZR2. In celebration of the new Silverado, we have been comparing it to its competitors throughout the market, and in this review, we compare the 2022 Chevrolet Silverado 1500 vs 2021 Nissan TITAN XD.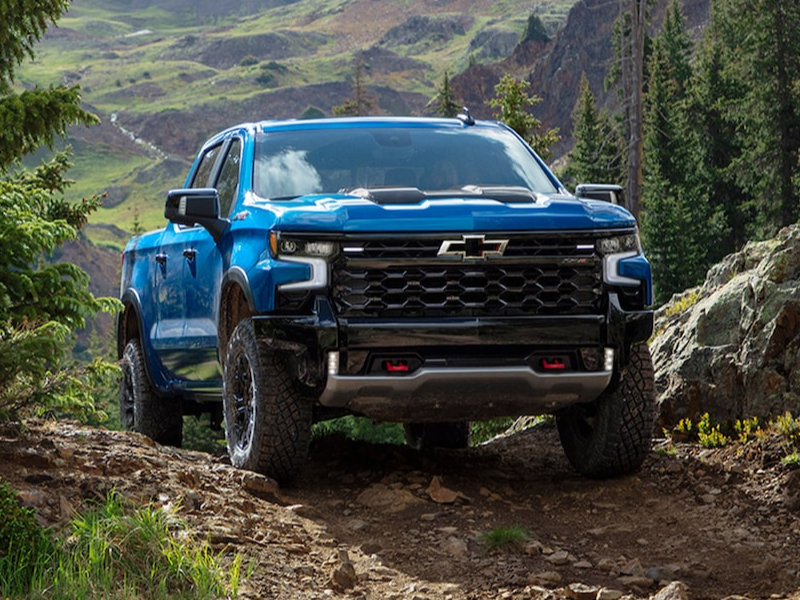 Exterior – Chevrolet Dealer serving Maquoketa IA
The 2022 Chevrolet Silverado 1500 is available in three cab styles: a two-door regular cab, a four-door double cab with smaller rear doors and a four-door crew cab. Chevrolet also offers three bed lengths: a long bed that measures 98.18 inches, a standard bed that measures 79.44 inches and a short bed that measures 69.92 inches. The regular cab comes with the long bed. The double cab comes with the standard bed, and the crew cab offers you the choice of the standard or short bed. Nissan only offers the 2021 Nissan TITAN XD in a single body style: a four-door crew cab with a 78.7-inch bed. Overall, it is a bit longer at 242.7 inches than the longest Silverado 1500, which is 241.21—about 20 feet.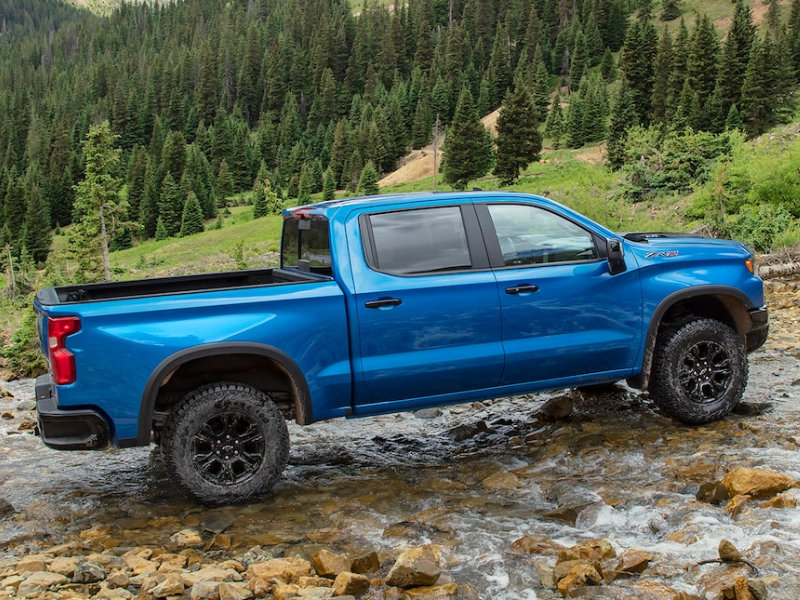 The regular cab can seat up to three, and the double cab can seat up to six. But we will focus primarily on the Silverado 1500 crew cab, which is its most popular option, and the closest comparison to the TITAN XD. Our location serving Davenport Dubuque Maquoketa Clinton Iowa offers both five- and six-passenger seating. The choice is between a front bench and front bucket seats, and Nissan offers this option as well. An interesting aspect of this 2022 Chevrolet Silverado 1500 vs 2021 Nissan TITAN XD comparison is that despite the Nissan model being larger overall, this is not reflected in the interior. The Chevrolet model provides more front headroom by more than 2 inches, more front legroom by nearly 3 inches and more rear legroom by almost 5 inches.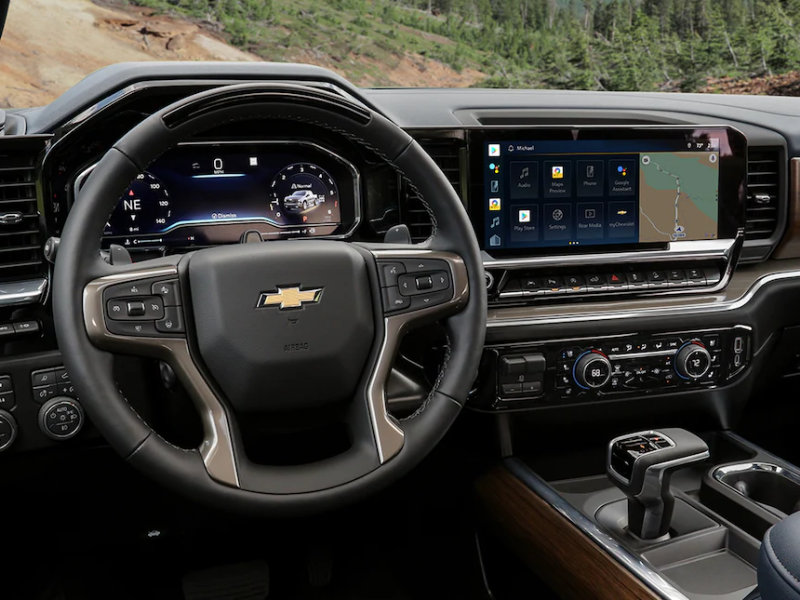 Chevrolet Silverado 1500 Mechanical specs
The Silverado 1500 is available as either a rear-wheel- or four-wheel-drive pickup. The 2021 Nissan TITAN XD does not give you that option and is sold exclusively with four-wheel drive. All TITAN XD models have the same powertrain: a nine-speed automatic transmission with a 5.6L V8 that makes 400 horsepower and 413 pound-feet of torque. The max tow rating is 10,880 pounds. All Silverado 1500 models have a 10-speed automatic transmission, and Chevrolet offers several engines: a 3.0L turbo four-cylinder that makes 277 hp and 460 lb.-ft., a 5.3L V8 that makes 3355 hp and 383 lb.-ft. and a 6.2L V8 that makes 420 hp and 460 lb.-ft. Nissan often markets the TITAN XD as straddling the line between light duty and heavy duty. However, even the Silverado 1500 with the turbo four can tow 9,600 pounds, and if you opt for either of the V8 engine, the towing capacities of the Silverado exceed that of the TITAN XD.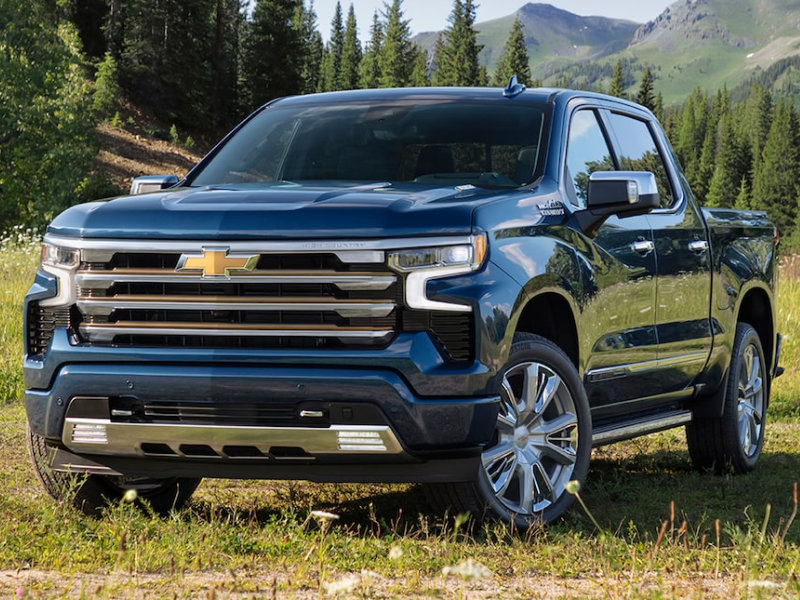 Safety – 2022 Chevrolet Silverado 1500 dealer
Both models feature a modern infotainment system. Chevrolet includes an 8-inch touchscreen with the lower trim levels, and now includes a 13.3-inch display with the LT trim level and up. Only an 8-inch display is available for the 2021 Nissan TITAN XD. In past iterations of these models, driver-assistance tech is an area where the TITAN XD would compare more favorably. But that has changed. Chevrolet includes a standard suite on par with Nissan that adds automatic emergency braking, blind-spot monitoring and so forth, and it has also added a number of leading-edge features, such as the hands-free Super Cruise tech.
The 2022 Chevrolet Silverado 1500 is among the most capable and technologically advanced pickup trucks on the market. You can visit our location serving Davenport Dubuque Maquoketa Clinton Iowa to test-drive it. You can also call to schedule or set up an appointment online. Our team is available via text and email. You can also shop Brad Deery Motors online. Explore current specials. Compare trim levels and options. Request custom quotes via live chat. Value your trade-in, and much more!