Shop at home

Brad Deery recognizes and understands that not everyone can come into the dealership right now. There may be time constraints with your work hours, family obligations, or health/safety concerns during this pandemic and we want to be able to help you have a positive experience purchasing a reliable vehicle.
There are many online tools that we have utilized for years and, now more than ever, you can take advantage of them and feel confident in your purchase. We try to be as transparent as possible, to allow you to make an informed decision. You can receive additional pictures, videos, chat/message, walkarounds, or virtual test drives.
Buy your way! You can do as much or as little of the process from home as you like.
Here are a couple of reviews from customers who purchased remotely!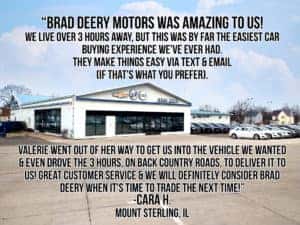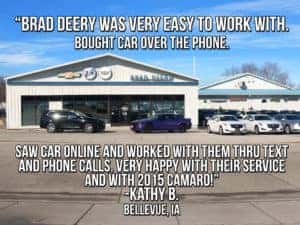 * Disclaimer:  New vehicle test drive to your door are only within 20 miles of the dealership.  Due to staffing and limitations of each dealership Pre-Owned vehicle at-home test drives are up to 100 miles away from Brad Deery Motors & 20 Miles for Brad Deery Ford.  Vehicle Delivery is up to 200 miles for Brad Deery Motors and 100 Miles for Brad Deery Ford.  Vehicles in our Budget Vehicle Program do not qualify for at-home test drives or delivery.  For customers with trade-in vehicles over three years of age and /or 40,000 miles, it is up to the discretion of the dealership if they will be able to properly appraise your vehicle from home and may require that the trade-in vehicle be brought to the dealership.  The dealership has the right to deny any at-home delivery or test drive in order to protect employees or due to staffing limitations. Vehicles will not leave the dealership until all paperwork is received back signed and the financing is secured.  Pricing for deliveries past 200 miles are based on a medium-sized vehicle.  Larger vehicles and trucks may increase shipping costs.