Service Department
Our Service Department
Problem with your vehicle? Time for your next scheduled maintenance? Our well trained service staff are here to provide you with the highest levels of customer satisfaction.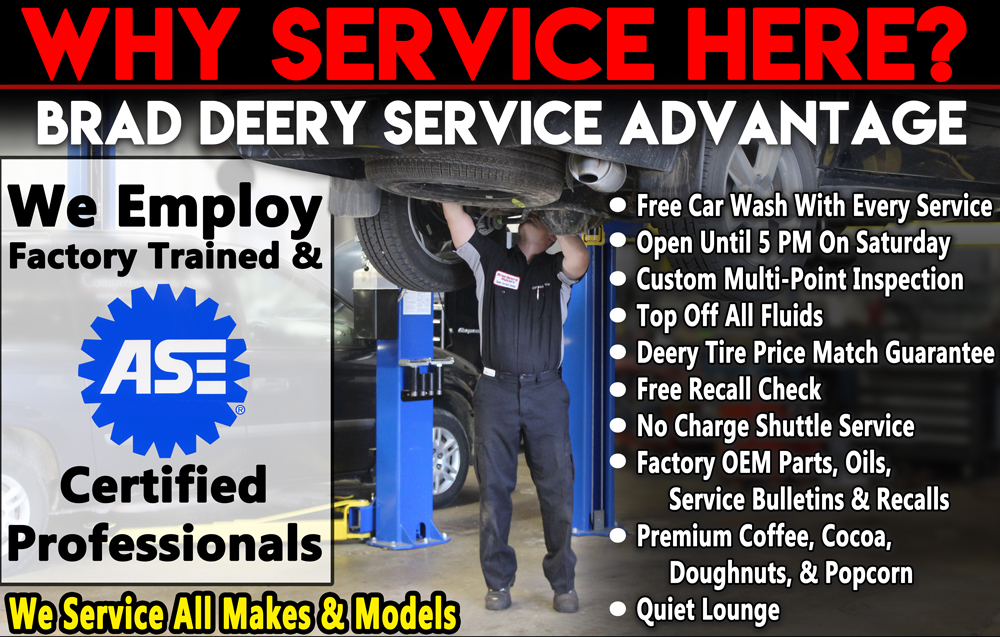 Automotive Service and Repair in Maquoketa IA


You rely on your vehicle to get you around Maquoketa and throughout Iowa on a regular basis, and your regular use of your car, truck, SUV or van can take a serious toll on its condition. Over time and across the miles, your vehicle's parts will wear out. Filters will get dirty, and fluids will be depleted. Your focus on regular automotive maintenance is critical if you want to maximize uptime and keep repair issues at bay. At Brad Deery Motors, our service center is ready to complete any type of maintenance work that your vehicle needs. We are also your reliable source for quality repair work. Regardless of your needs now and in the years ahead, rest assured that your vehicle is in honest, trusted hands when you bring it to Brad Deery Motors.


Recommended Vehicle Maintenance


Your vehicle has a recommended maintenance schedule that was prepared by the automaker. This schedule includes everything from regular oil changes and tire rotations to 30,000-mile services and other milestone services. Completing the services according to the prepared schedule is an excellent way to keep the signs of wear and tear at bay. Your efforts can reduce the chance of having a serious and inconvenient breakdown. Some services can also help your car to maintain excellent fuel economy and can provide you with other significant benefits. At Brad Deery Motors, we are well-equipped to address all of your car's maintenance requirements under one roof. By choosing to bring your vehicle to our Maquoketa service center, you can save time while getting your vehicle completely serviced in one location by a skilled team of technicians.


Special Services


Following your car's recommended maintenance plan is important, but there are times when your vehicle needs additional work. For example, your car's AC system will eventually require attention. It may need a recharge or even a full replacement. This is only one of many special services that our technicians at Brad Deery Motors can complete on your vehicle. For all routine and special maintenance tasks as well as any other services that your vehicle needs, your vehicle will be handled by well-qualified technicians. Work will be completed using authorized parts with quality tools and equipment.


Automotive Repair Work


Regardless of how well you maintain your vehicle, it will eventually need repair services. Some newer models are involved in a collision or may be damaged by hail or other severe weather conditions. Older vehicles can be impacted by these conditions, excessive wear and more. For any type of body damage or engine damage to your vehicle, we are ready to help. Our technicians have the skills, training, parts, and equipment on-hand to remove signs of damage and to refresh your vehicle. We can get it looking and running like new quickly and with your first visit to our service center.


Brad Deery Motors is your leading source for all vehicle services in Maquoketa and throughout the area. We are ready to earn your regular business by providing you with an amazing experience for each service we complete. Use the website to schedule service, or call us directly for an appointment.
Our Locations
Brad Deery Motors

112 N. Second Street
Maquoketa, IA 52060
Brad Deery Collision Center

709 Muggsie Lane
Maquoketa, IA 52060
Brad Deery Ford

1178 200th Ave
Maquoketa, IA 52060
Brad Deery Motors Brad Deery Motors Service Coupons
Front Or Rear Brake Service With Machining Rotors
$179.95
Print