Iowa Review – 2020 Ford Mustang Shelby GT500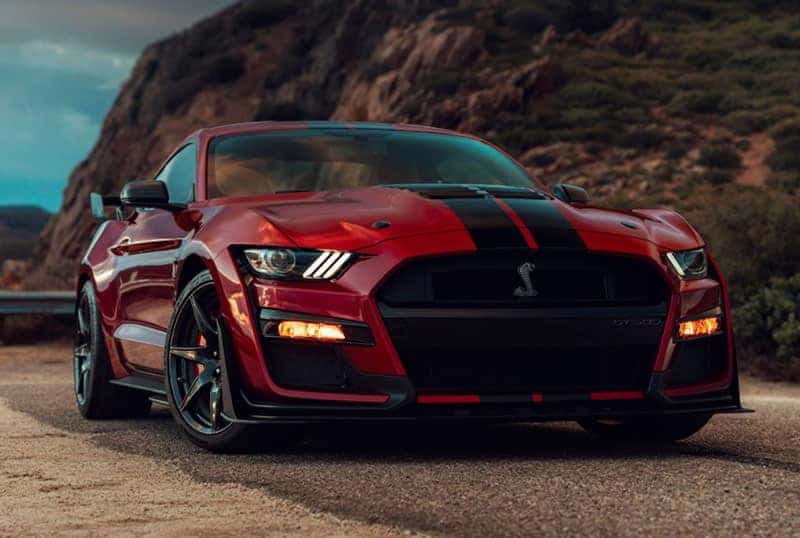 The Shelby GT500 is a much-anticipated vehicle among Mustang fans. It has been about five years since Ford has manufactured a GT500, and the automaker has promised that it will be worth the wait. Well, this 760-horsepower road monster has finally arrived, and the entire team at your local Ford dealership in Iowa is thrilled for a muscle car that not only lives up to the hype but exceeds it. The stock version of the 2020 Ford Mustang Shelby GT500 is fully loaded, but Ford also offers a diverse range of equipment packages so that each driver can dial in his or her Shelby GT500 just right for them.
Exterior – 2020 Ford Mustang Shelby GT500
The GT500 is based on the GT350 platform. The similarities are apparent, but numerous exterior options really set this vehicle apart and also allow you to set your particular Mustang apart. The front fascia is completely new for the GT500 and looks downright mean-in a good way! Ford has stated that the fascia design is not just for good looks and actually accommodates heat exchangers that provide additional cooling for the engine, supercharger, transmission, and so forth. Perhaps the most notable of the many equipment packages available in the Carbon Fiber Track kit. In addition to racing tires, it adds carbon-fiber wheels and a carbon-fiber rear wing.
Interior – 2020 Ford Mustang Shelby GT500 in Maquoketa
The interior of the 2020 Ford Mustang Shelby GT500 is derived from the base Mustang interior, but there are many flourishes as well as a host of additional options to set it apart. Shelby accents are, of course, found throughout, including on the steering wheel and seating. Perhaps the most surprising change is that Ford has done away with a gear shifter and has opted for a gear selector dial. A tech package expands the cockpit experience with voice-activated navigation, a 12-speaker B&O audio system, seating memory settings, and heated side mirrors with integrated turn signals.
Mechanical – Ford Mustang Shelby GT500 specs in Maquoketa
The 2020 Ford Mustang Shelby GT500 redline is 7500 rpm. This a rear-wheel-drive vehicle with a single engine and transmission, which we will discuss in further detail in the next section. Ford has made one of the most powerful street-legal cars ever made, which certainly means it has the potential to be obnoxiously loud. But Ford also offers an active exhaust option so that this Mustang can be as quiet as you like for those times when maximum roar just is not appropriate or desired.
Powertrain – Ford Mustang Shelby GT500 specs in Maquoketa IA
Every 2020 Ford Mustang Shelby GT500 in Iowa will feature the same engine. It is a 5.2-liter Whipple supercharged V-8. In addition to the 4.5-liter Whipple supercharger, you can expect forged internals-as opposed to cast-modified cylinder heads and a 90-degree crank. Under the hood, there are new parts and approaches specific to the GT500, such as the transmission, ECU, high-flow fuel system, intercooler, and tuning. The transmission is a seven-speed dual-clutch automatic, and the entire setup makes 760 horsepower and 625 pound-feet of torque. Based on this performance, Ford has boasted zero to 60 miles per hour in under 3 seconds and a quarter-mile in under 11.
Safety – 2020 Ford Mustang Shelby GT500 dealer
Every 2020 Ford Mustang Shelby GT500 features a full-color 12-inch LCD instrument cluster that is fully customizable. Your Mustang will also have an 8.0-inch color touchscreen as the centerpiece of the Ford Sync 3 infotainment system. A backup camera is standard and provides its feed to this display. This Mustang will also have a standard driver-assist package similar to what is provided with the base Mustang. Final safety specifications have not been announced at the time of this writing, but based on other Mustangs, we expect a blind-spot monitor, lane-keeping assist, adaptive cruise control, and so on.
Test-Drive the Shelby GT500
Have you been eagerly anticipating the 2020 Ford Mustang Shelby GT500? This amazing vehicle has finally arrived and is available for test-driving at your local Ford dealership serving Iowa. You can visit us at your convenience to test-drive the GT500, or you can call or message us online to schedule an appointment. Our team also encourages you to contact us online via our website or call us for the latest information. We can discuss pricing, equipment packages, your loan application, and much more. Also serving Maquoketa, Dubuque Iowa, Moline, and East Moline Illinois.