Research 2020 Jeep Gladiator - Maquoketa Iowa
View Inventory
Vehicle Overview
While Jeep sought to serve its consumer's needs by introducing the Scrambler, a Jeep Wrangler with a small bed, it left certain consumers still wanting. Back in 1963, the original Jeep Gladiator was a pick-up truck that served many purposes. Now, in 2020, the Gladiator is seeing its return to the arena. With a full-sized bed, consumers and lovers of the Jeep line are sure to be thrilled with an actual pick-up truck once more. This article will go over known details about the upcoming Jeep Gladiator and offer a Jeep Gladiator review. At the Brad Deery Motors in Maquoketa serving Maquoketa Davenport Dubuque Iowa, you can find out more information and sign up for a test drive once it becomes available.
Exterior - 2020 Jeep Gladiator
By a simple glance at the future 2020 Jeep Gladiator, you can tell immediately that it is a Jeep product. Half of its parts, in fact, are shared with the Jeep Wrangler. This includes the hood, doors, fenders, and the powertrains. Perhaps one of the most exciting features of the exterior for the Gladiator is that you can remove the doors and roof just like a Wrangler. That makes this pickup the only open-air truck in the industry. At Brad Deery Motors in Maquoketa, serving Maquoketa Davenport Dubuque Iowa areas, you'll want to get your hands on the 2020 Jeep Gladiator to experience a drive unlike anything else. They offer four trim levels which can affect the exterior of the truck. Those levels are the Rubicon, Sport S, Sport, and Overland. Finally, the windshield can also be folded down for complete access to the wind. The bed is five foot and comes with tie-downs. Clearly, there is a ton of fun to be had in the future 2020 Jeep Gladiator.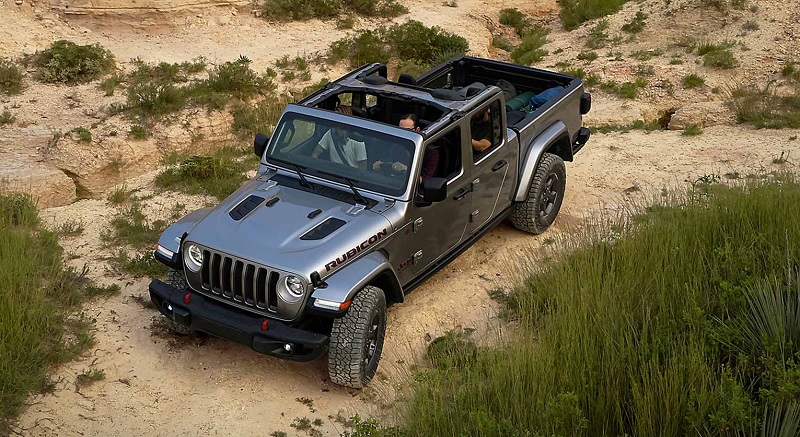 Interior - 2020 Jeep Gladiator
Jeep mixes play and practicality with their Gladiator design. In total, it offers five seats for owners to enjoy. That consists of four main seats with a smaller middle one in the second row. That being said, the second row offers a lot of leg space. A frequent complaint among truck owners is that those who are doomed to sit in the back often have to bunch up their legs to fit. The future 2020 Jeep Gladiator fixes that problem by providing spacy room for legs. The second-row seats can also be folded down for further storage in the back should need the arise. Interestingly, the second-row seats also have storage bins built into them. So, if you need to store some loose objects, you can safely lock them away within the storage bins of the seats. Another aspect of the interior is the speakers. While many other pick-ups feature speakers in just the front row of the truck, the Gladiator wants those in the back to be just as much part of the party. They've installed a wireless speaker located on the back of the seat that can be removed if needed and uses smart charging. This ensures that no matter where you are on the trail, your music keeps on playing. Because off-roading requires plenty of tech to record all of the adventures, the Gladiator has numerous black switches to run your accessories, slits that can hold your phone securely, a Uconnect Infotainment system that is compatible with Android Auto and Apple CarPlay, as well as a large touchscreen in the front with numerous features. In addition, the Gladiator has a radar camera to assist in automatic emergency braking and cruise control.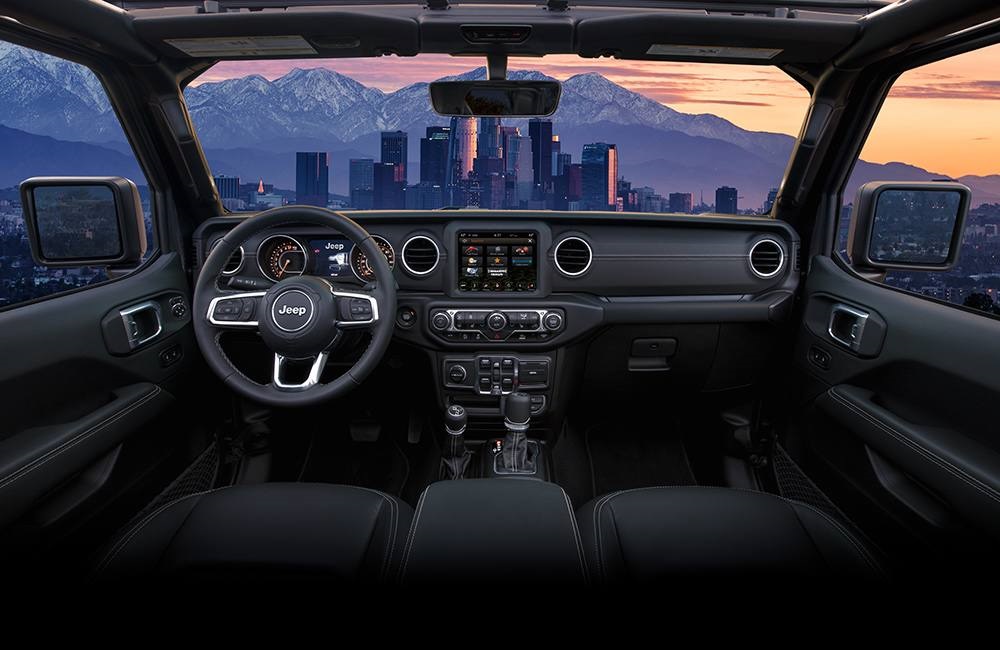 Mechanical/Powertrain - Jeep Gladiator specs
No Jeep Gladiator review would be complete without touching on the mechanical parts of the 2020 Jeep Gladiator. It contains a 3.6-liter 260-lb-ft Pentastar V-6 engine with 285-hp. It has a manual for six-speed but also offers an automatic transmission fo eight-speed. However, the eight-speed won't be available until 2020 while the six-speed is available in the latter financial quarter of 2019. The eight-speed has its own power with an EcoDiesel V-6 engine of 3.0 liters that's turbocharged and has a start/stop function that also offers 260 hp and an incredible torque amount of 442 lb-ft. There is also going to be a 2.0 liter turbo-four later on in its line as well as a plug-in hybrid which is looking at its release in 2020. Owners of a prospective 2020 Jeep Gladiator likely want to know in their Jeep Gladiator review what they can expect to haul with the impressive Gladiator. With all of that power under the hood, you can tow around 7,650 pounds with a payload of 1,600 pounds. This is largely due to the increased size of the grille which allows for better air intake. It also has a class IV hitch.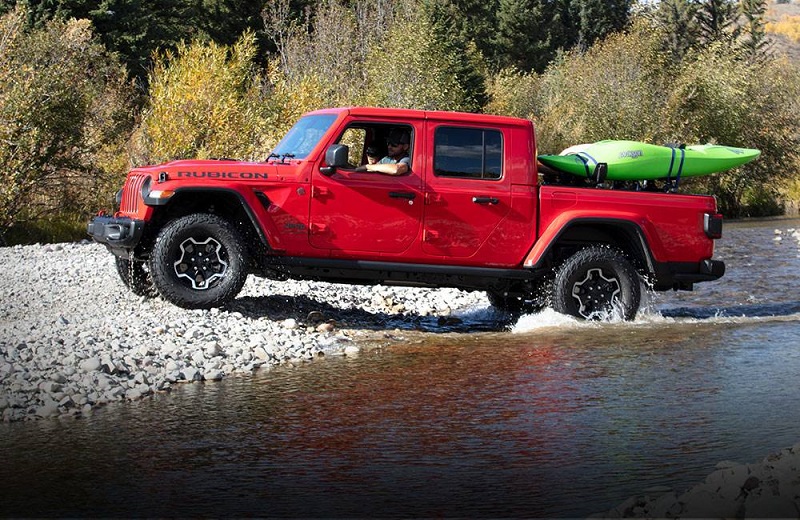 Safety - 2020 Jeep Gladiator dealer
Equipped with all of the safety standards in the industry, it is the Rubicon which offers the most safety features in regards to its primary use for off-roading. The Rubicon has heavy-duty axles from Dana, lockers for the front and wheel axle, a sway-bar disconnect, and off-road tires sized up to 33 inches.
At Brad Deery Motors in Maquoketa serving Maquoketa Davenport Dubuque Iowa areas, you should stop by to check out all of the information currently available for the 2020 Gladiator. Not only can the Gladiator bring you to the adventure, but it has also become part of the adventure. Make sure you schedule your test drive soon.