Research 2019 Chevrolet Blazer Maquoketa IA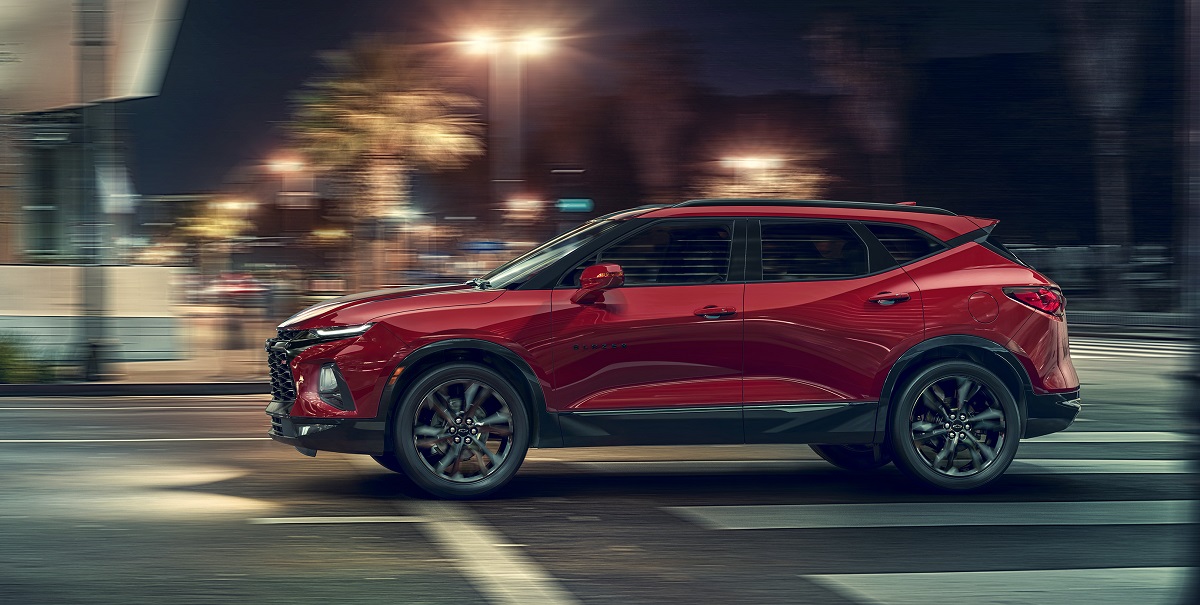 View Inventory
Discover The 2019 Chevrolet Blazer
Have you searched for a crossover-like sports utility vehicle capable of seating five passengers in two rows of seats? The flashy new 2019 Blazer offers a bold style! Its three trim models includes the elegant Premier and the rugged RS. Research these eye-catching vehicles today at your local Chevrolet dealership in Maquoketa Iowa: Brad Deery Motors. We'll help you explore every aspect of these in-demand SUVs.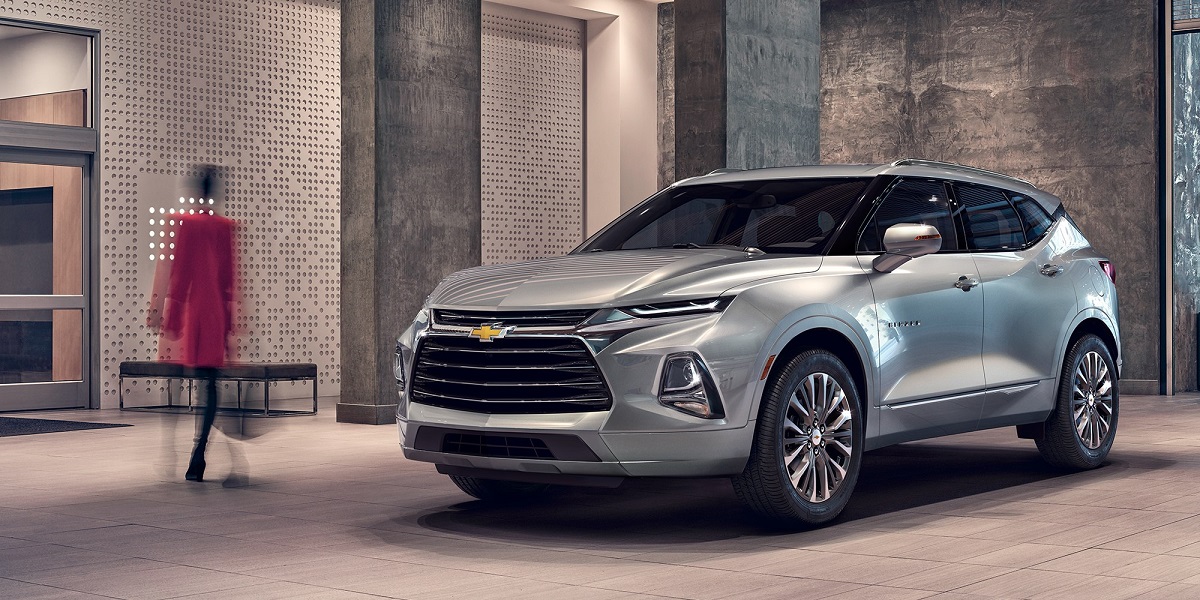 2019 Chevrolet Blazer's Exterior
The beautiful exterior conformation of the new 2019 Blazer has already begun generating a buzz. With its finely sculpted and fluted dimensions, this SUV maintains a distinctive, captivating appearance. The glossy exterior supplies upwardly sweeping contours in the rear to enhance its striking profile. Available in a number of popular paint colors, the new 2019 models delight customers seeking fashionable crossovers for business use or daily commutes. One difference between the trim models involves options for modifying the size of the wheels. (Both the RS and Premium trims allow customers to upgrade to 21"-inch wheels if desired.)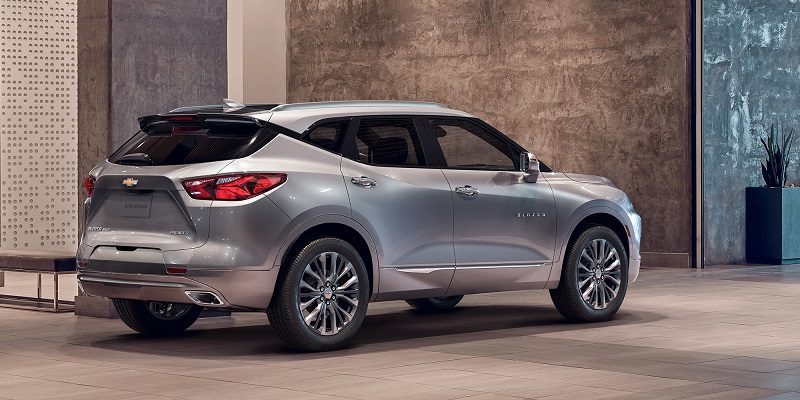 2019 Chevrolet Blazer's Interior
Open the driver's side door and slip behind the wheel of the 2019 Chevrolet Blazer to fully appreciate its allure. If you've longed for a trendy sports utility vehicle capable of supplying the opulent comforts of a luxury auto, you'll want to take a closer look at this exciting design! One important distinction sets the interior of the new 2019 Blazer apart from its closest competitors: like a sedan, it will offer only two rows of seats. The allocation of space inside the cabin leaves room for riders to stretch out their feet. They'll also enjoy easy cargo storage. Seats in the rear fold down to supply additional room to transport bulky items. You'll appreciate the generously sized computer display console in the front of the vehicle. Measuring a full 8" in diameter, this feature offers convenience and automation. Use it to remain Internet connected on the road by selecting WiFi capabilities.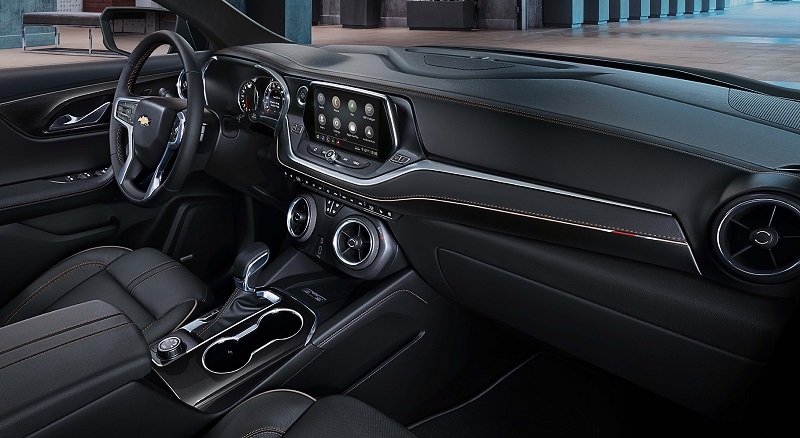 The front seats in this well-arranged cabin furnish both heating and ventilation options to help ensure a comfortable ride. Select an available sunroof to increase the sporty design qualities of this enticing recently-redeveloped SUV! The RS and Premier trims supply a standard feature of interest to anyone anticipating transporting valuable items in the vehicle and desiring extra security: the glove compartment will lock electronically. Its intuitively arrayed display panel allows for seamless navigation. If you'd like to research this model in greater depth, add your name and email to the Brad Deery Motors email list now. We'll contact you from time to time as the manufacturer releases further information about these soon-to-be-released models. We expect them to reach showroom floors sometime during early 2019.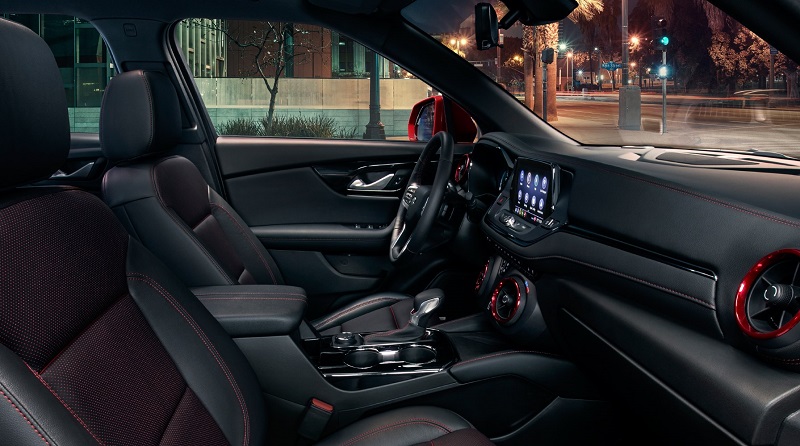 Powerful Mechanical Engineering
When you research these thrilling models at your Maquoketa Chevy dealership, ask us to demonstrate examples of Chevrolet engineering expertise of most interest to you. Automotive designers have developed a number of key innovations during recent years. Yet despite the addition of new mechanical components, this manufacturer's commitment to high quality remains unchanged. You'll discover the Blazer offers the same superb braking and suspension systems you've come to expect from rugged Chevy trucks and SUVs. Visit us in Maquoketa Iowa to check out the sophisticated lighting and temperature control systems utilized in these in-demand new models. We'll help you obtain answers to any questions you have about mechanical features in the 2019 Chevy Blazer!
A Precision Powertrain
Of course, different customers require variable levels of horsepower from their sports utility vehicles. The 2019 Blazer does not disappoint in this respect. Choose a four cylinder or optional six cylinder engine, based upon your anticipated requirements for your vehicle. We'll help you select the best engine to accommodate your horsepower needs. With available power reportedly ranging from 193 horsepower to a racecar-like 305 horsepower, you'll enjoy the capability to tailor the powertrain to meet your driving goals. Capable of towing a staggering 4,500-pound load, these new SUVs also offer customers the opportunity to obtain an available specialized rear view camera focusing on the hitch. This feature promotes greater ease in connecting a tow if you plan on using your Blazer to pull a trailer.
Essential Safety Considerations
When you arrange to test drive one of these new models at your local Maquoketa Chevy dealership, ask us to point out safety features of most interest to you. The manufacturer has built some important safeguards into the design of this SUV. From its sturdy metal framework to its strong seat restrains and airbag system, the Blazer offers essential safety technology. A variety of high tech alert systems further assist drivers. We look forward to the opportunity to showcase some of this Chevy technology for you during your visit.
Further Information
Take action now to ensure you receive the latest updates about this exhilarating vehicle! Ask Brad Deery Motors to keep you apprised about this stylish SUV when new details become available. We expect public anticipation to rise during coming weeks and months as the official debut of the 2019 Chevrolet Blazer in dealerships approaches. If you'd like to conduct a test drive, let us know as soon as possible. We'll reserve a place for you!
*Information supplied in this article appears for general purposes only; for complete details, contact your local dealership.