2019 Jeep Wrangler lease and specials in Maquoketa Iowa
2019 Jeep Wrangler lease and specials in Maquoketa Iowa
---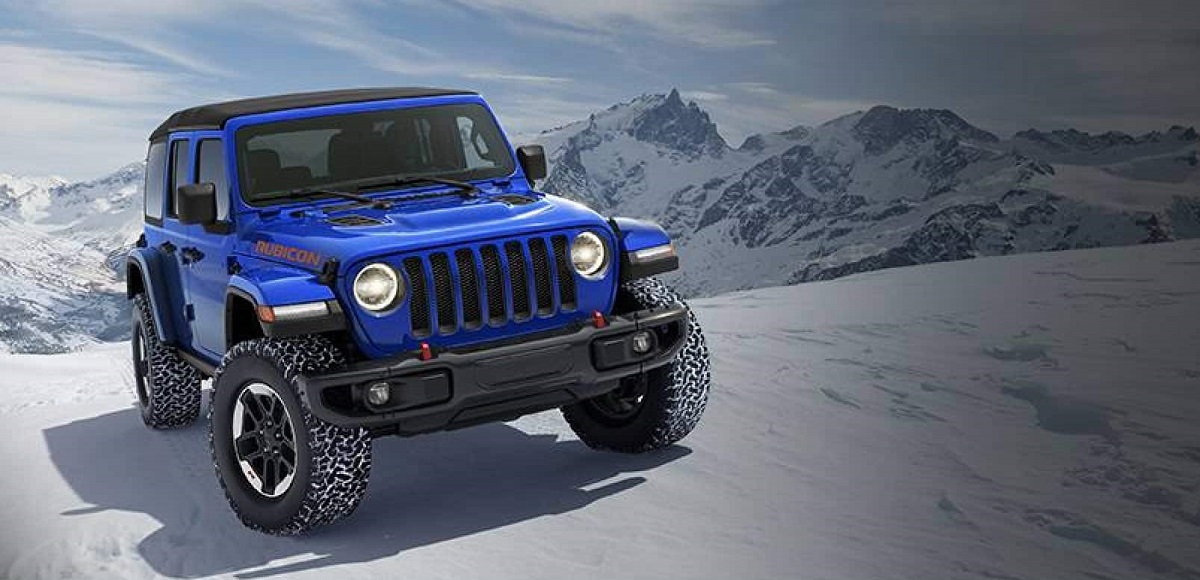 *Not actual vehicle
Jeep Wrangler Lease Specials and Finance Offers in Maquoketa IA near Davenport
Why Buy or Lease 2019 Jeep Wrangler in Maquoketa Iowa
The Jeep Wrangler has so much more to offer than its rivals. It's a sports utility vehicle that will age well. It is efficient, able to handle the most difficult situations. The high quality of this Jeep allows it to be one of the only sports utility vehicles to offer a superior level of overall off-road performance. The new Wrangler from Jeep for 2019 remains a height of refinement for a pure and hard 4x4. Jeep has been in good shape since the launch of this most recent version of the Wrangler. There's nothing like a short trip to the woods to test this sports utility vehicle with an advanced new look. We can understand the reason why this Wrangler is so successful, it is already part of a commercial tidal wave, and it will continue since, according to FCA estimates, the growth of sports utility vehicle sales will keep on increasing for the foreseeable future.
*Not actual vehicle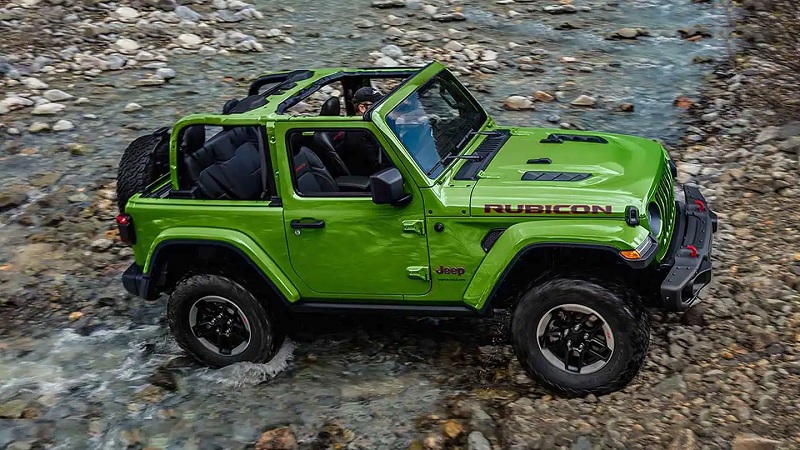 Exterior - Jeep Wrangler
I feel that it is stable, well adjusted with quality materials, and a beautiful paint job. When you look at this new Wrangler from Jeep for 2019, you will not be disappointed, and you can now admire this machine. You should appreciate the balance, count the seven historical openings of the grille, peruse the elegantly daring sides, admire the design of the glass surfaces, and never forget the famously fabulous wheel arches. The car's geometry betrays its off-road ambition, thanks to its ground clearance and the cutting of the front and rear bumpers that will allow it to cross a rough road. This new Wrangler is especially impressive when he wears the formidable Jeep logo, which gives him an arsenal of warfare to go on an off-road adventure. The whole is quite successful, and this car has an attractive face and a personality.
*Not actual vehicle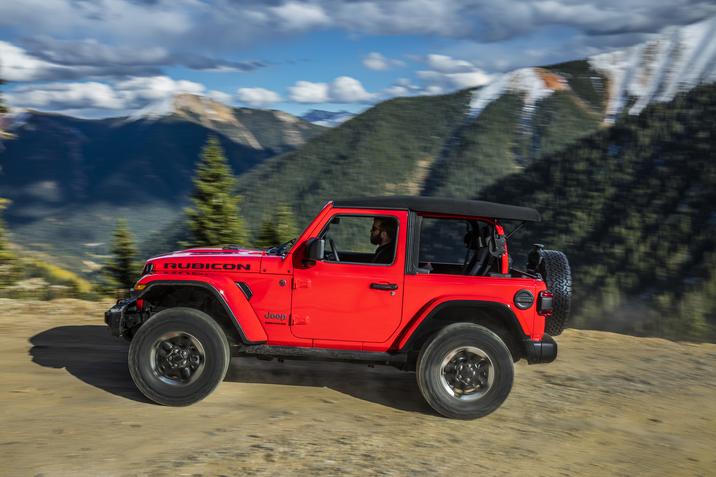 Interior - 2019 Jeep Wrangler
I'm going to have to get into the spirit of this Jeep, pleasure yes, but not just on the road. The comfy driving position never bothers me, and I cannot think of anything that could be improved. The new Wrangler from Jeep for 2019 has many storage spaces and a sizeable reactive display. This new Jeep is an efficient relaunch. The rear seat is very spacious, including the usual comfy space as the middle seat, and the trunk size is in the upper middle of the segment. Available with a new screen size depending on the version, it integrates everything on the highest version, from navigation to Android Auto and Apple CarPlay connection. This screen is convenient, very readable, and quite easy to use.
*Not actual vehicle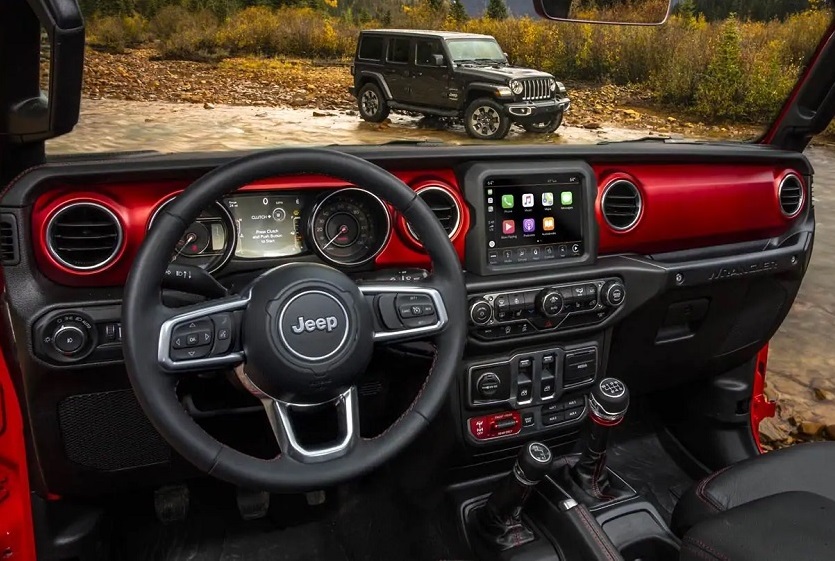 Mechanical - 2019 Jeep Wrangler
The Wrangler can come with a Pentastar V6 or the 2.0-liter turbo engine, and the 2.0-liter is a four-cylinder turbo engine. The new Wrangler from Jeep for 2019 is at home in the homeland of cowboys, and their ranches are part of a vast wilderness where adventurous vehicles are king. The new engine is never even a little hollow at low revs. The equipment is extensive and very easy to use. For my part, I find that the Wrangler is really in a good state of mind: on mainly straight roads, you'll love this agile and aggressive vehicle, on the many American roads and tracks, you'll also need a robust and versatile vehicle. But the generous ground clearance allows you to get away from it all. On the other hand, its driving is smoother thanks to the car gearbox, its engine is more muffled, and its four-wheel-drive reassures. All that remains is to hope for efforts on the finish and equipment available, after which this Jeep can show itself as a potential rival to the most expensive sports utility vehicles presently offered on the market.
Technology & Safety
In this respect, the new Wrangler from Jeep for 2019 meets the primary needs of Jeep customers, customers who seek above all to feel free to drive towards adventure. Powerful and available throughout its RPM range, this engine is more than enough for the task and allows for excellent acceleration. This situation is also the case with this Jeep, but it also has an ace up its sleeve: its real off-road skills are worthy of this Wrangler, and this sports utility vehicle is an off-road specialist, but with the comfort of a modern and premium sports utility vehicle. And on rough terrain, this Jeep sports utility vehicle is awe-inspiring.
*Not actual vehicle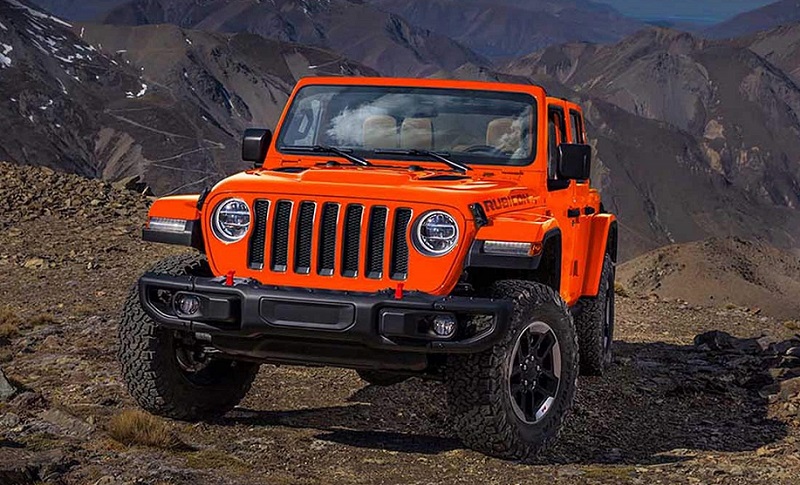 Trim Levels
In use, this car is healthy and reassuring, and drivers looking for more agility and dynamism will prefer to turn to this new Wrangler from Jeep for 2019. Depending on the finish adopted, everyday life can be made easier with a reversing camera with side traffic alert, collision alert with low-speed braking, lane change warning, parking assistant, adaptive cruise control, and blind spot monitoring. The upper trim level also offers plenty of features, which may include the following: an MP3 radio, a tire pressure control system, a sunroof, some heated seats, leather upholstery, a cruise control, and an advanced sound system. You can also get different pieces of equipment, like the following: a 4-bolt foldable windshield, 18-inch aluminum wheels, and LED signature headlamps. Much more rigorous than its rivals, the Wrangler gives Jeep the means to expand its clientele.
Request 2019 Jeep Wrangler Specials in Maquoketa near Clinton, Dewitt, Davenport IA
Only because you right now have an understanding of much more on the topic of the brand new Wrangler from Jeep for 2019, you should check out our shop to take one of these beautiful sports utility vehicles out and about for a pleasant journey. The dependable personnel at our business are always thrilled to support automobile owners in comprehending much more with regards to this sports utility vehicle.