Iowa Review - 2020 Chevrolet Corvette C8 Mid Engine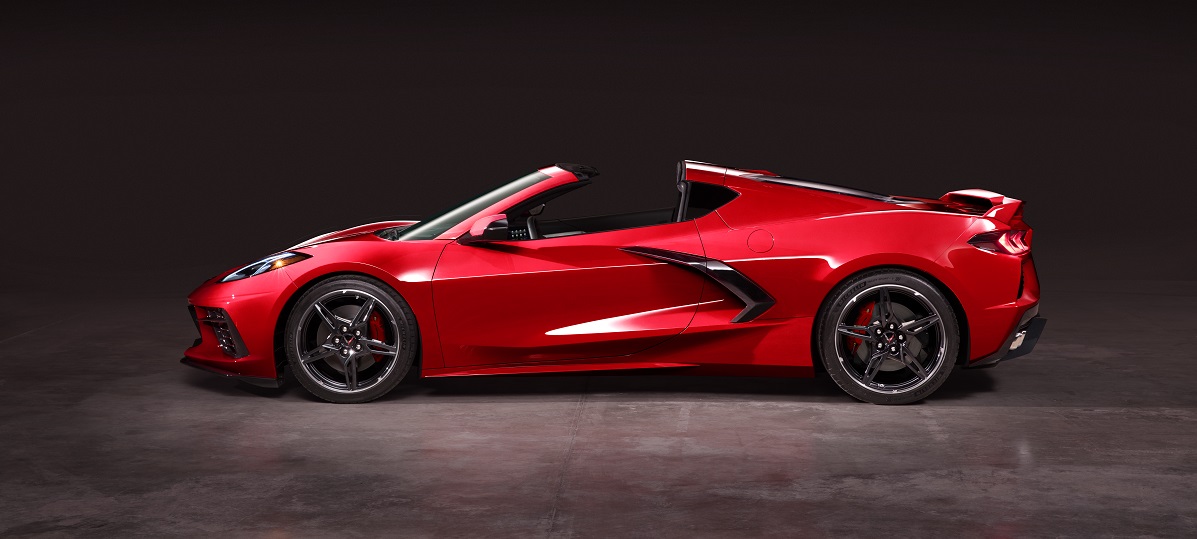 View Inventory
Vehicle Overview
This Iowa review will cover all the awesome new updates and sweet engine specs of the 2020 Chevrolet Corvette C8 Mid Engine. We at Brad Deery Motors have been waiting with bated breath for the unveiling of the 2020 Chevrolet Corvette, and here it is. The car's already a big deal for one shocking reason: the 2020 Chevrolet Corvette C8 Mid Engine is the first Corvette that's ever featured a mid-sized engine. It's a new design that's been updated for today's modern world, and it's pushing the boundaries of what sports cars can be. The 2020 Chevrolet Corvette C8 will feature twelve colors and six total interior schemes. It boasts options that Corvettes have never had before, and we're unbelievably excited to pen this Iowa review.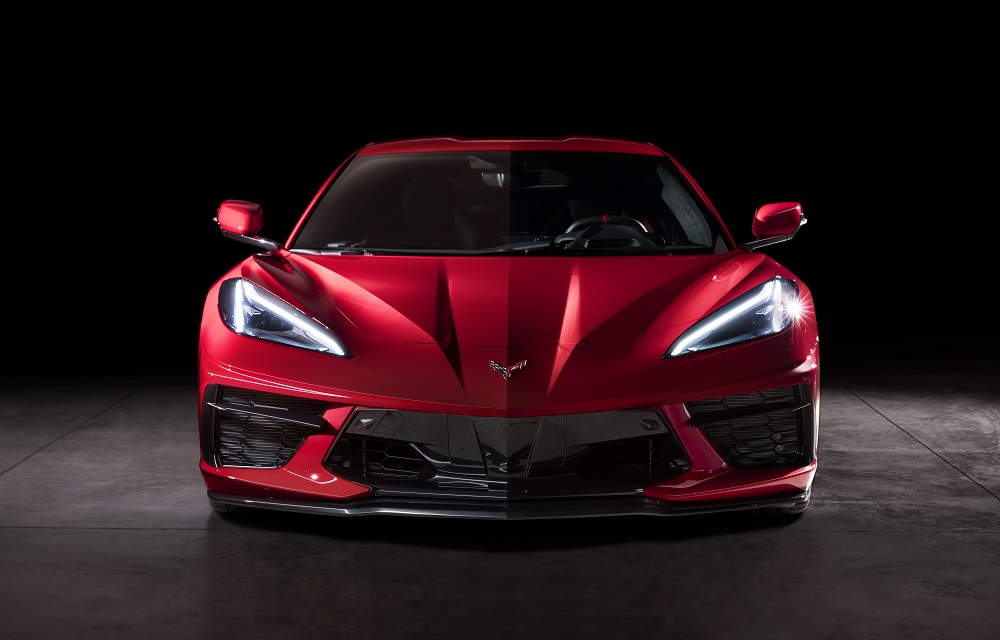 Exterior - 2019 Chevrolet Corvette
The C8 is available in 12 bold and striking colors to suit any racer's taste. New colors include Zeus Bronze, Rapid Blue, and Accelerate Yellow. From the last C7 model, the 2020 Chevrolet Corvette brings forward Arctic White, Blade Silver, Black, Elkhart Lake Blue, Ceramic Matrix Gray, Sebring Orange, Long Beach Red, Torch Red, and Shadow Gray. Optional dual top stripes are available in Carbon Flash, Sterling Silver, or Midnight Black. You can also get dual stripes on the front fenders in edgy red and silver colors. The front wheels are 19 inches, with 20-inch wheels in the back. Opting for the Z51 package lets you access a new front splitter and a rear spoiler that increase your downforce and let you accelerate faster. You can get an optional larger rear wing as well. The front air intake slats and side scoops are painted with Carbon Flash, but you can purchase a package to alter your exterior paint to other metallic colors. The removable roof can be purchased with a transparent center panel, a carbon fiber construction, or a standard painted finish.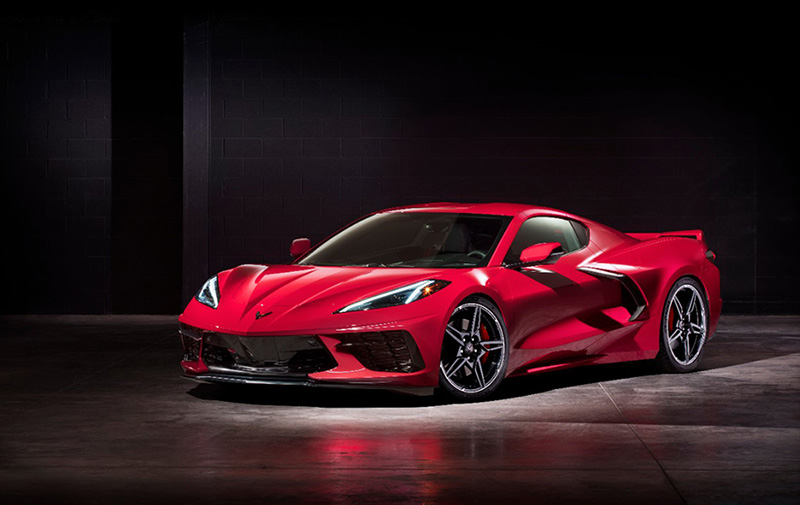 Interior - 2019 Chevrolet Corvette in Maquoketa
The interior of the 2020 Chevrolet Corvette C8 Mid Engine comes with a whopping 6 interior color schemes. You have your pick of Two-Tone Blue, Sky Cool Gray, Morello Red, Natural Dipped, Jet Black, or Adrenaline Red. The three trim levels vary in their application of color. You might have your entire interior covered with the color of your choice, or it may be used as a dual-tone with sleek black. Seatbelts can come in Yellow, Torch Red, Orange, Natural, Blue, or Black. There's a two-spoke steering wheel that you can have wrapped in microsuede or comfortable leather. Three seating options are available, one of which is an all-new mid-range choice. The base trim features GT1 seats with Mulan leather that is good for sport driving and comfort. GT1 seats include two-way adjustable support and optional wing adjustment. The GT2 seats feature dual-density foam that makes them ideal for long-distance driving. They have bolsters made from Mulan leather and a center insert of napa leather, along with carbon-fiber trim. On top of the lumbar support and wing adjustment, you get ventilation and heating. There's also an option for microsuede upholstery rather than leather. The top tier is Competition Sport seats, which are designed for drivers who want to hit the track. They have full napa leather coverings, aggressive bolsters, carbon-fiber headrest trim, ventilation, and heating. All interior features are wrapped in microsuede, leather, or an authentic material. You can choose whether to finish your center console and door sills in aluminum or carbon fiber. An optional Bose sound system comes with stainless steel speaker grilles.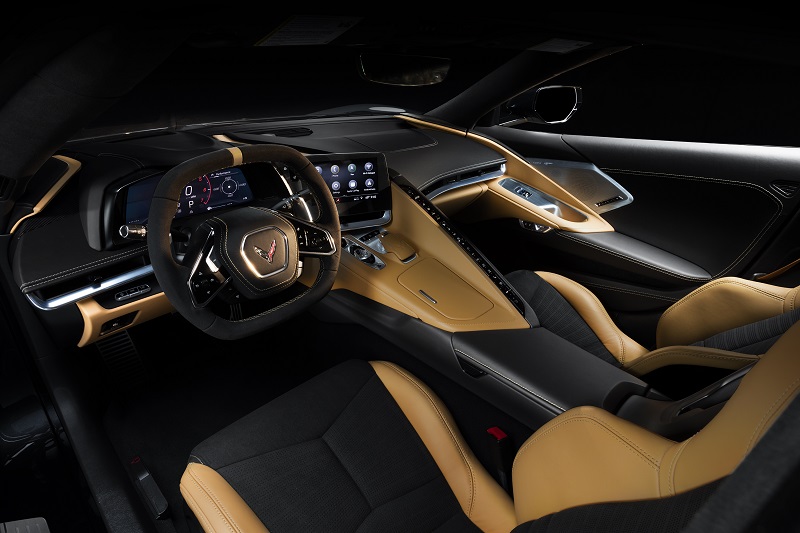 Mechanical - 2019 Chevrolet Corvette specs in Iowa
The base 1LT trim comes with keyless entry and easy push-button start. You also get an eight-inch touchscreen that utilizes upgraded infotainment software, a 12-inch digital gauge cluster, power-adjustable steering wheel, and automatic and dual-zone climate control. The 2LT trim's features include everything from the base plus a head-up display, wireless phone charging, steering wheel heating, rear-camera mirrors, a navigation system, upgraded sound system, rear cross-traffic alert, blind-spot monitoring, and a recorder for performance data. The 3LT's software and technology are about the same as the 2LT.
Powertrain - 2019 Chevrolet Corvette
There are three suspension setups available: the FE1, FE3, and FE4. FE1 is the base and has a standard suspension. If you upgrade to the FE3, you automatically get the first Z51 upgrade pack which has suspension upgrading, traditional passive dampers, larger brakes, an electronic differential, a performance exhaust system, and upgraded cooling. The FE4 takes all of this and adds magnetorheological dampers that are adaptive. The mid-engine design places the engine behind the passengers. There's also only an automatic transmission available, an eight-speed dual-clutch beast that lets you accelerate smoothly and quickly. The V-8 engine uses a 6.2-liter pushrod power that can hit 495 horsepower when using Performance exhaust. There's 470 lb-ft of maximum torque. According to Chevrolet, any 2020 Chevrolet Corvette with the Z51 package will accelerate 0 to 60 in under three seconds.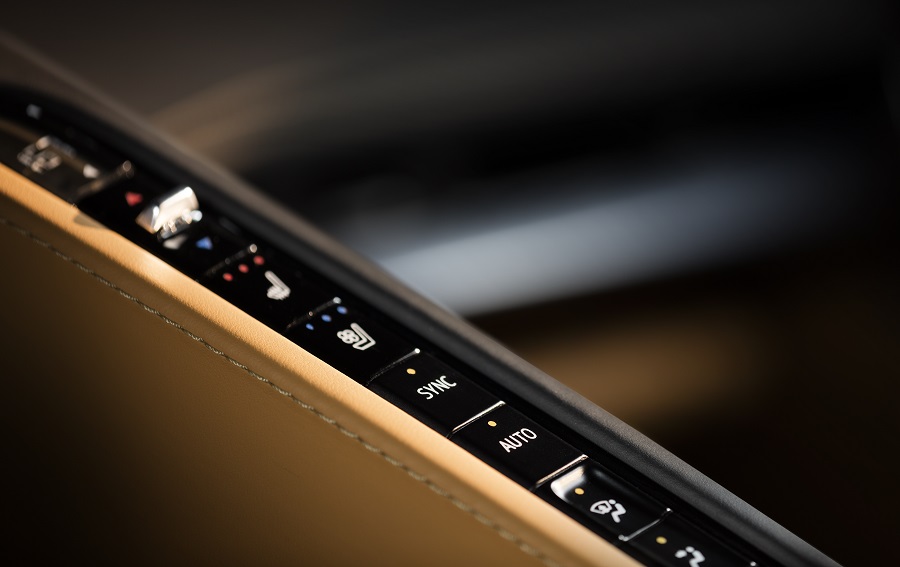 Safety - 2019 Chevrolet Corvette dealer
Let's make a note in our Iowa review that this Corvette doesn't skimp on the safety features. The electrically-boosted brakes let you stop quickly, and the all-season tires keep you safe in all weather. There's also the aforementioned blind-spot monitor, rear cross-traffic alert, rear traffic camera, and upgraded suspension.
Here at Brad Deery Motors, we can't wait to show you all the wild options available for your next sweet ride. Stop by Brad Deery Motors today to talk options and do a test drive!
This page is for general information only. Please contact our dealership for current details.