Find a 2019 Chevrolet Silverado near Davenport Iowa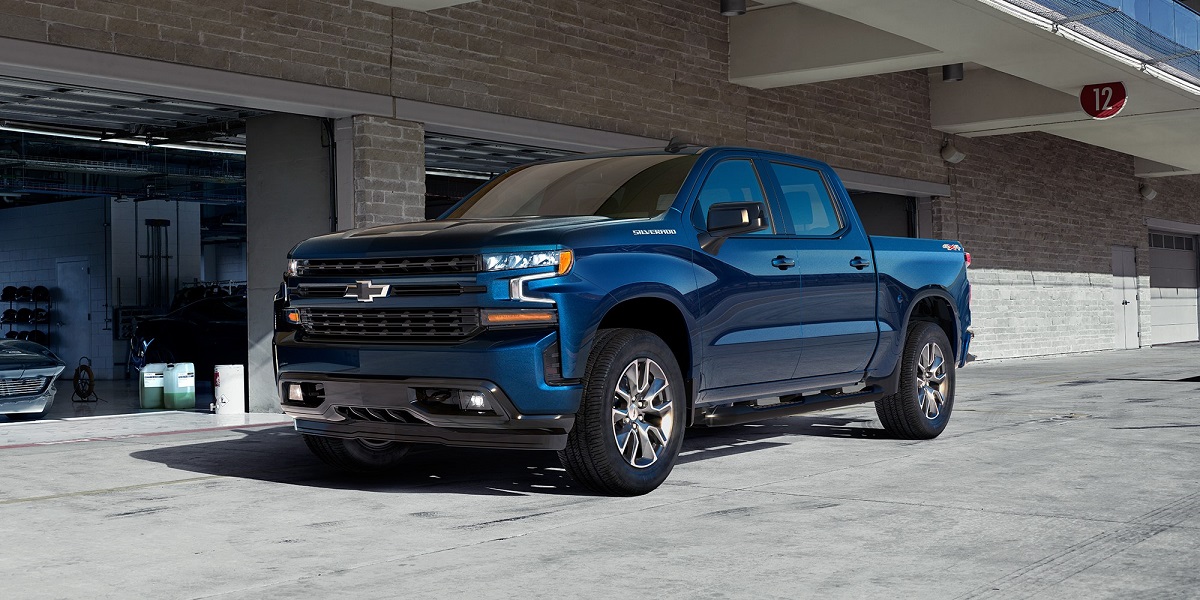 View Inventory
Vehicle Overview
Currently, there's no shortage of full-size pickups that have re-invented themselves as all-purpose consumer vehicles to rival crossovers and SUVs. The trouble is they've abandoned the original pickup design along the way. The 2019 Chevrolet Silverado is one truck line that hasn't. In addition, the Silverado comes with cab options that out-perform the competition in both luxury and quality. Here's just a few of the details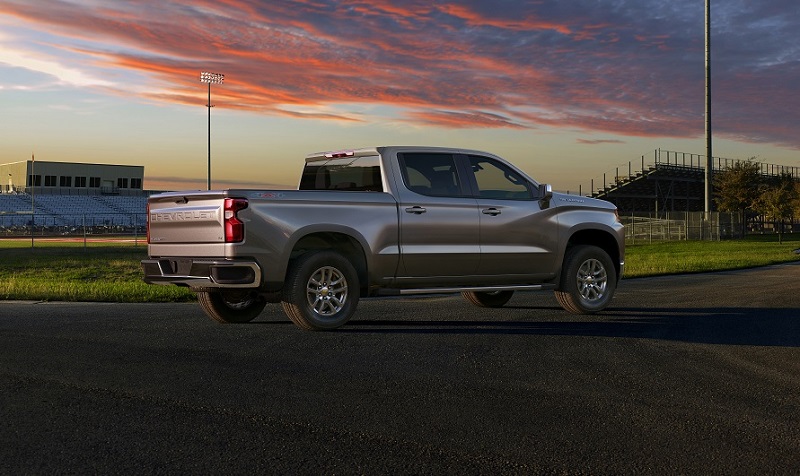 Exterior - 2019 Chevrolet Silverado
For 2019, the Silverado serving Davenport Iowa radiates its imposing strength though a stockier engine compartment that's vertically thicker than its forebearers. A muscular grille with stout horizontal bars is perched over a heavy, meaty front bumper to accentuate this feature. Completing this forward presentation are a pair of thin, brilliant headlights equipped with either halogen bulbs or LEDs. With a no-nonsense approach, the 2019 Chevrolet Silverado near Davenport modestly applies creasing and molding along side panels. To accommodate a sizable tailgate, taillights are arranged vertically while also utilizing either halogen or LED radiance to pierce the night. Expanded dimensions abound in back, too, as cargo boxes have spread out an additional 7 inches to 50.6 inches while offering higher sides of 22.4 inches that more easily contain any payloads. Otherwise, the rear beds come in the three recognized sizes of 5 ft-8 in, 6 ft-6 in, and 8 feet.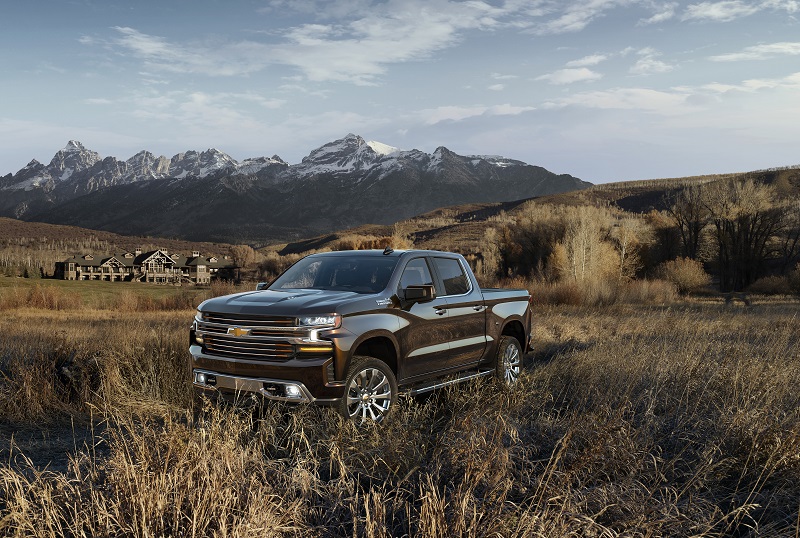 Interior - 2019 Chevrolet Silverado near Davenport
The Silverado has stayed in touch with its roots by offering a single-row configuration with 43 inches above and 44.5 inches for legs as well as supplying a pair of cabin arrangements holding two seating rows. Both king-size cabins maintain the front row dimensions while giving second-tier occupants 39.9 inches of overhead clearance and 35.2 inches of legroom in the case of the Double Cab design. If this isn't enough, the Crew Cab alternative raises the roof to 40.1 inches and provides forward leeway of 43.4 inches. The clearances around the seating isn't truly empty, though, since six speakers in the most basic model fill it with sound. The spaces can also be filled with cool, comfortable air from the air conditioning supplied with all Silverado models at Brad Deery Motors. This theme of open space is also reflected in a dashboard that feels uncluttered despite a plethora of accessories like a generous glovebox and a 7-inch touchscreen that operates features such as AM/FM audio along with Apple CarPlay and Android Auto. A USB port and 12-volt outlet round out the essentials. In more elaborate editions like the Silverado LTZ and High Country serving Davenport Iowa, buyers can expect a second USB port along with a rear 12-volt outlet and a 120-volt outlet. Other offerings include dual-zone climate control, an 8-inch touchscreen, and leather trim.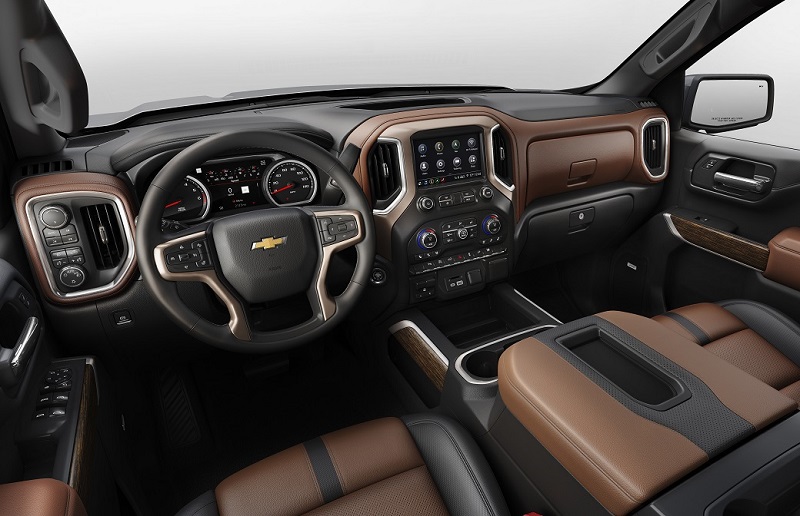 Mechanical - Chevrolet Silverado specs near Davenport
No matter which engine is installed, an alternator capable of up to 170 amps is paired with it to supply such electric-powered accoutrements as locks, windows, side mirrors, electric rack and pinion steering with a curb-to-curb turning diameter of 44.6 ft, and even motorized multi-positional front seats. The 2019 Chevrolet Silverado near Davenport doesn't stop there by including possibilities in higher trims like a power sunroof and an automated tailgate.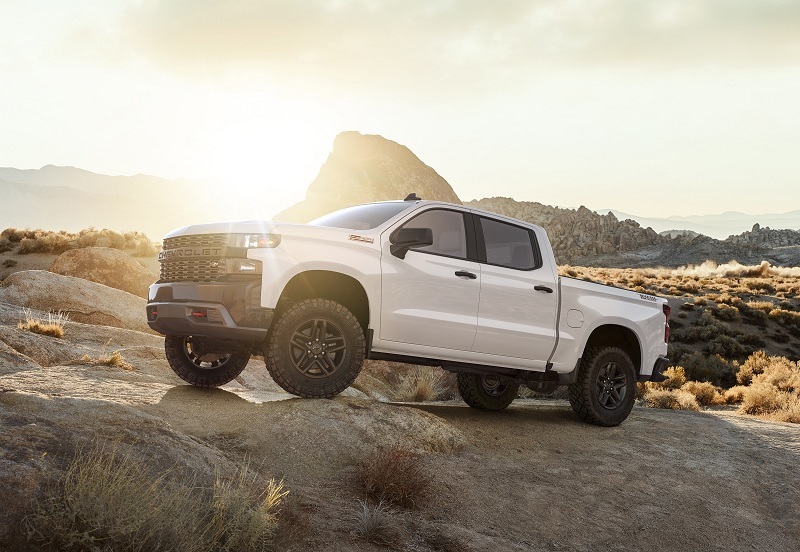 Powertrain - Chevrolet Silverado specs near Davenport Iowa
Since some 2019 Chevrolet Silverado buyers want a work truck while others want an all-in-one primary transport, it's no surprise this pickup at Brad Deery Motors comes with more than one engine choice. What's surprising is an array of six options that cover every need from one end to the other. For customers wanting basic, entry-level affordability, nothing fills the order better than the 4.3-liter V6 block brewing up 285 horsepower. Higher fuel savings and power are rolled into one with the 2.7-liter turbocharged-4 that combines 310 horses with 20 mpg city and 23 mpg highway. Two versions of the 5.3-liter, 355 horsepower V8 block conserve gas by either Active Fuel Management that shuts off 4 cylinders altogether or Dynamic Fuel Management that skips past certain actions in the operation cycle of up to 6 cylinders. Teamed with a 6-speed automatic transmission, the AFM-equipped machine serving Davenport Iowa gets 15 mpg city and 22 mpg highway. In DFM mode, this block works with an 8-speed automatic transmission for 17 mpg city and 23 mpg highway. A 6.2-liter V8 utilizes DFM to deliver 420 horses at a frugal 16 mpg city and 20 mpg highway. Later in the year, a 3-liter straight-6 turbodiesel arrives as the sixth and final entry.
Safety - 2019 Chevrolet Silverado dealer
A frame rugged enough to haul so much gear should be expected to handle serious bumps and dings, and the Insurance Institute for Highway Safety agrees by giving the 2019 Chevrolet Silverado the top mark of Good for roof strength along with front and side collision testing. They even awarded it a grade of Superior for front collision prevention ability. Making the Silverado even safer are standards like airbags, traction and stability control, antilock brakes, and a backup camera. Depending on the model, smart tech like a front impact alert with self-activated braking, lane drifting alert with automatic correcting, blind spot monitoring, and rear cross-traffic alert are also available.
With all the configurations and options possible in the 2019 Chevrolet Silverado near Davenport, it might sound complicated, but the professionals at Brad Deery Motors can make choosing pretty simple. Just by trying out a few models, you'll know which is best. From there, enjoying the results is a pleasure that doesn't get any simpler.