2019 Chevrolet Suburban lease and specials in Maquoketa Iowa
2019 Chevrolet Suburban lease and specials in Maquoketa Iowa
---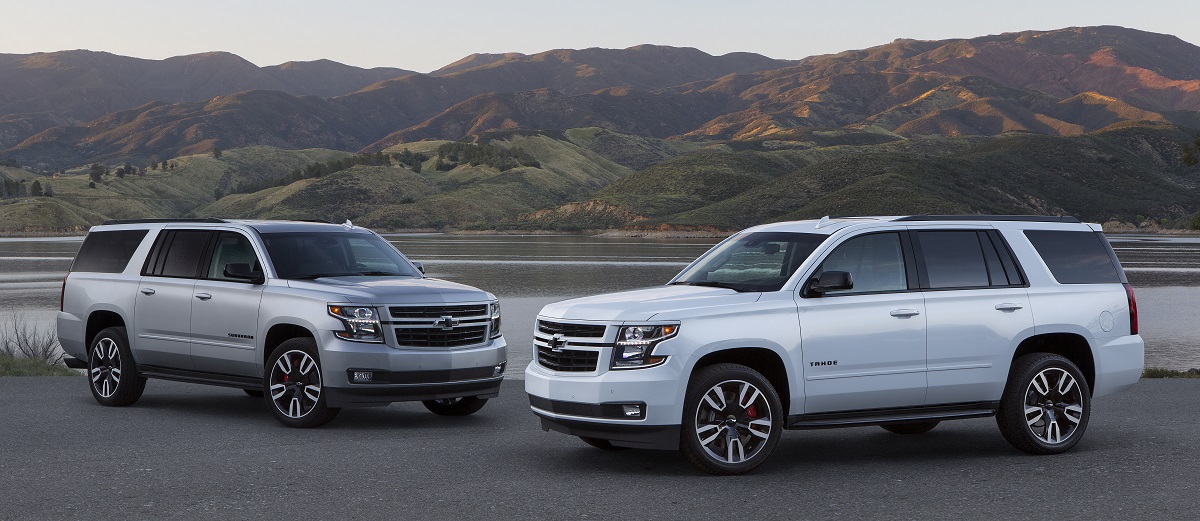 *Not actual vehicle
Chevrolet Suburban Lease Specials and Finance Offers in Maquoketa IA near Davenport
Why Buy or Lease 2019 Chevrolet Suburban in Maquoketa Iowa
Although there is competition in the sports utility vehicle sector, no other manufacturer can match the quality and the attention to detail offered by this Suburban. On the road, the Suburban defends itself very well. This American giant always builds its cars with the same rigor as its trucks. This new Suburban from Chevrolet for 2019 has the effect of never overly exploiting its engines in the context of everyday use, and therefore it cleverly limits their use over time. The most exciting version is without a doubt the 6.2-liter engine with a V-8 FlexFuel EcoTec3 system, which is impressively frugal when it comes to its fuel use. The vehicle's many systems (such as the blind spot monitor or rearview camera) also make it easy for a driver to perform more delicate maneuvers. It is also easily maneuverable, and you'll quickly learn how to handle it.
*Not actual vehicle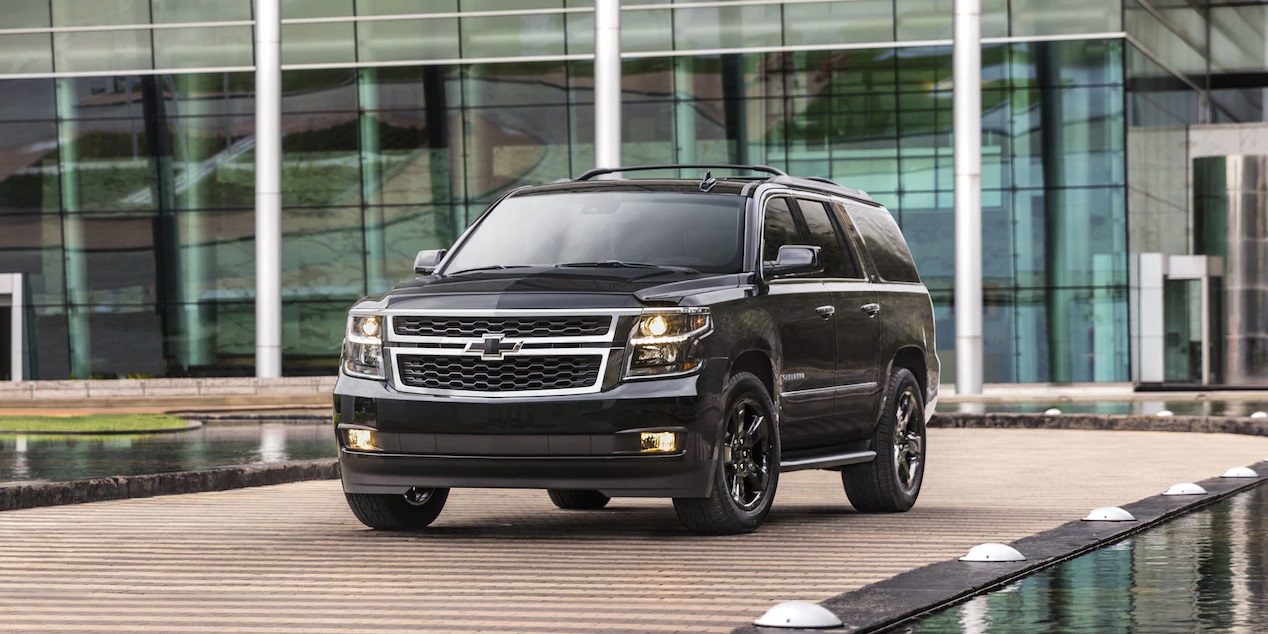 Exterior - Chevrolet Suburban
Its height falls below the limit of most underground car parking lots that have a limited height level. Also, the difference between the Chevrolet Suburban Premier and the last Cadillac Escalade I looked at is pretty thin. This Suburban is merely huge, both in terms of trunk space and seating. To complete the sportier look, Chevrolet offers this Suburban with a wide choice of 20-inch and 17-inch wheels. In this Suburban, there is no need to compromise, and you can even accommodate up to nine individuals.
*Not actual vehicle
Interior - 2019 Chevrolet Suburban
The dashboard of this new Suburban from Chevrolet for 2019 shines through its ergonomics and aesthetics. Even behind the third row of benches, there's still a lot of cargo space. In terms of material quality, Chevrolet has made a giant step forward in the past few years. Its enormous size allows it to offer an impressive interior space to accommodate up to nine people and a few suitcases. Few sports utility vehicles provide both a comfortable space for nine individuals and their luggage and can cope with the harshest road conditions while carrying heavy loads. Often, with a nine-passenger vehicle, it is the trunk that suffers, but this Chevrolet does not have that issue. While this Suburban offers space, the Suburban also provides a large cargo area.
*Not actual vehicle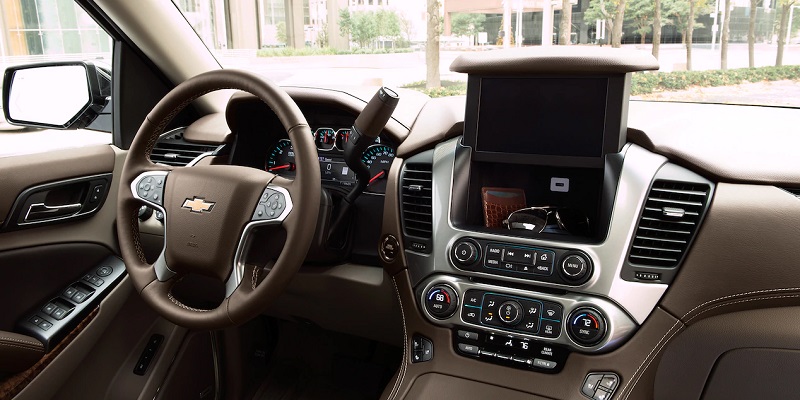 Mechanical - 2019 Chevrolet Suburban
Chevrolet had a good idea to add a FlexFuel version to the Suburban and its siblings, like the GMC Yukon. However, you will never have even a little difficulty using this vehicle, and I would suggest this new Suburban from Chevrolet for 2019 for anyone who needs a powerful sports utility vehicle. Many people may criticize American manufacturers for choosing large V8 engines, but recent innovations have proven that these engines can have reasonable fuel consumption in terms of performance. These motors also benefit from the fact that the right level of overall efficiency ensures their reliability in terms of displacement. To help this Chevy, it enjoys the deactivation of the cylinders which works under certain conditions. Obviously, for towing, this Suburban from Chevrolet is the ideal solution.
Technology & Safety
Once get behind the wheel of this new Suburban from Chevrolet for 2019, you'll see that the Suburban is very pleasant to drive. We are back to the Chevrolet Tahoe/Suburban, and GMC Yukon/Yukon XL, which are all fresh, at the cutting edge of technology, and they also maintain a sharing of their technology with the Silverado and GMC Sierra pickup trucks. For such a monster capable of towing up to 9,600 lbs, the fuel use is very respectable. The reliability of a Chevrolet Suburban is also high. The direction remains rather bright, and this helps when traveling in urban areas. First, you have a 5.3-liter engine with cylinder deactivation and FlexFuel compatibility as standard on all four-wheel-drive models. Offering excellent reliability, this Chevy also gives peace of mind to its buyers.
*Not actual vehicle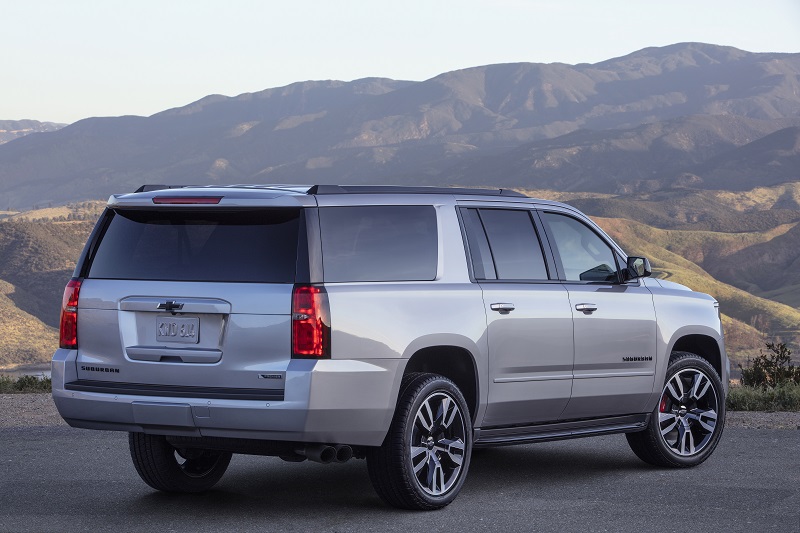 Trim Levels
If you're dying to have this type of vehicle but want to spend as little money as possible, which is still relative in this case, there's the LS version. The LS version is the least expensive trim level for the new Suburban from Chevrolet for 2019. Before I finish this article, I wouldn't want to leave you under the impression that there is only the Premier trim level available. The Suburban in its Premier version, at the top of the range, does not skimp on the appearance of comfort and luxury. The 6.2-liter and 5.3-liter models are equipped with a new 6-speed gearbox, while the sports utility vehicle can also benefit from a transmission that acts as a higher efficiency automatic for better fuel economy. You can also enjoy all the useful features of the Suburban, without spending too much money.
Request 2019 Chevrolet Suburban Specials in Maquoketa near Clinton, Dewitt, Davenport IA
Because you are now aware of many revolutionary specifics concerning the modern Suburban from Chevrolet for 2019, it's also wise to realize that the sympathetic personnel at our business are invariably thrilled to aid patrons to have the ability to find out more about our sports utility vehicles. A brief driving evaluation on some different landscapes will also help you to understand the features of this sports utility vehicle.