New Chrysler 2021 Chrysler Voyager Trim Levels near Dubuque IA in Maquoketa IA l Quad Cities
2021 Chrysler Voyager Trim Levels near Dubuque IA
View Inventory


Long proud of its status as the most affordable minivan in America, the 2021 Chrysler Voyager trim levels in Iowa are niceties built for every family need. It's unusually sculpted and muscular for a minivan and looks very much in step with modern vehicles of today. Best of all, your 2021 Chrysler Voyager trim levels are an opportunity to pick and choose what matters most to you and your family. Here at Brad Deery Motors, we believe in serving Quad Cities Cedar Rapids Maquoketa Iowa with quality information about our inventory. The 2021 Voyager promises to be one of the most important vans of its generation. It's the minivan America can afford. The simplicity of the Voyager's trim levels are part of its charm and quality. There are just two to choose from: the L and LX. Taken together, though, these well thought out and appealing two trims are enough to make the Voyager a truly stunning achievement of frugality and quality. Chrysler's rare gift of knowing exactly the features your family wants is apparent in both trims. For those looking solely for budget and must-have features, the L is great. For those who want to spend a little more – but not too much – the LX is ideal.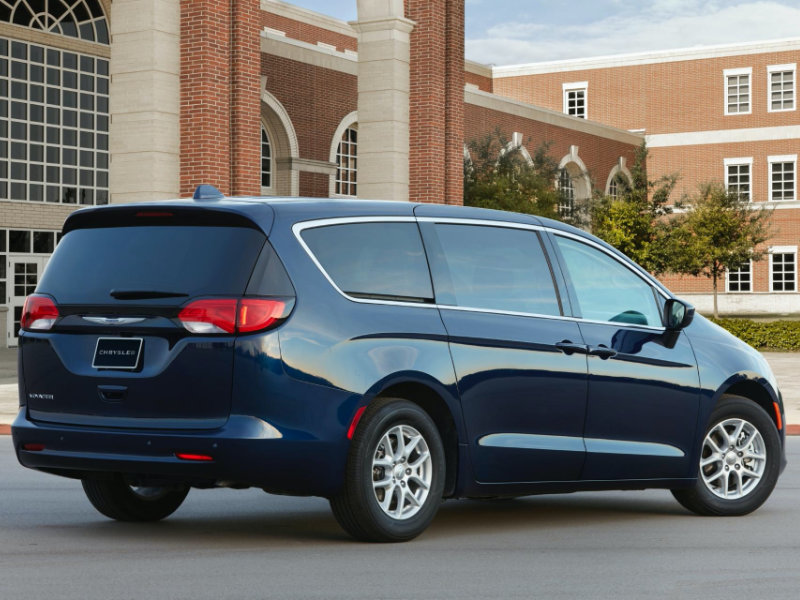 L Trim – Chrysler Dealer serving Dubuque IA
The Voyager L knows everything that it takes to make a minivan useful and appealing for a family. Its beautiful color scheme makes the whole family proud to pile into this one for a family tri. It comes in colors like Brilliant Black Crystal Pearl-Coat, Bright White Clear-Coat, and Velvet Red Pearl Coat (more available). The deep, rich colors outline the muscular angles of the Voyager in a way that makes you excited to hit the road. Practicality is another appealing part of the Voyager's blueprint. It has a Third-Row Stow 'n Go seating system that makes it easy to convert your passenger space to cargo capacity. It takes just a touch of the button, and you're ready to fold up those pesky seats and make way for a new TV (or whatever you're hauling home for the family that day). It's perfect for families who frequently grocery shop in large batches. Active noise cancellation is also perfect. Sometimes you need to raise that voice and let your family know you mean business (quiet down back there). Your kids will always be able to hear you perfectly thanks to Active Noise Cancellation. And thanks to new Voice Command and brilliant cloth seating, you have the modernity you need to feel like you got your money's worth out of the Voyager. Set at 287 horsepower, the L can move!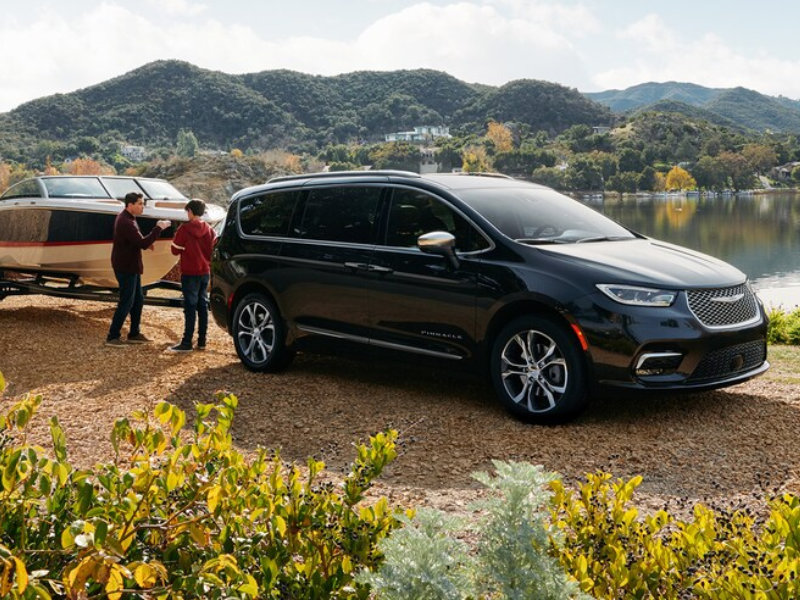 The extra conveniences of modern life cost a little bit extra, but they never cost you too much when you choose the Voyager. Thanks to its reasonably priced starter trim, the second and last trim up is packaged up with things that make family life on the road a little more wonderful. It comes with larger wheels (17″ aluminum wheels) that really bolster the exterior into something more chic. Automatic headlamps also strike a more convenient pose on the road. In-Floor storage bins ramp up your storage capacity, but the real news is on the safety features of the LX. You're going to get SafetyTec standard. It features Full-Speed Forward Collision Warning with Active Braking, Pedestrian Emergency Braking, and Blind Spot Monitoring. An 8-way power driver's seat is also a nice touch on a vehicle in this price range. Very few minivans priced like the Voyager offer these safety mechanisms. And although we love the 287 horsepower engine and 532 mile driving range (perfect for road trips), it's the safety features that make the LX such an appealing trim. And don't forget, you can add safety packages to your L, too, if you'd like to focus on that. The interior fabric is a little nicer on the LX as well.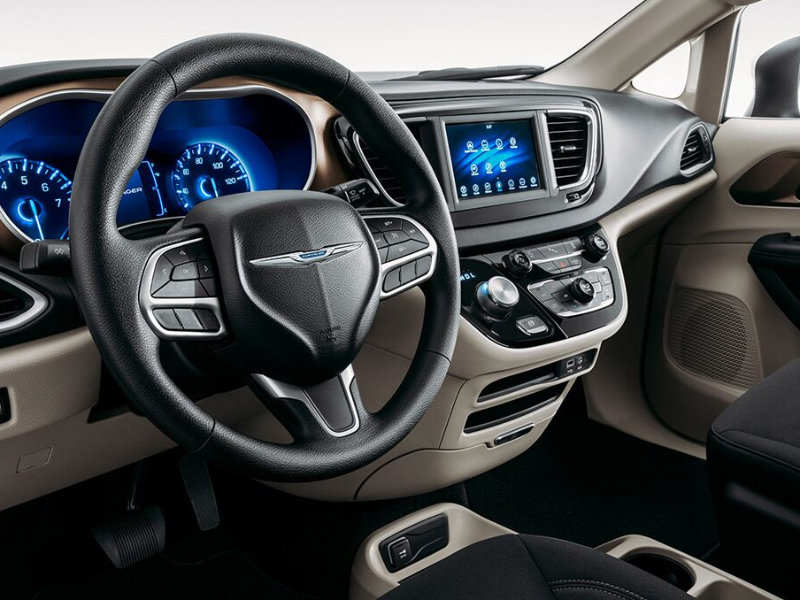 Choose What's Important to You
With just two trims, it might seem like there's no chance to get more customized. However, there are fun packages to choose from that will add more of your personality to your minivan. Seating capacity for the Voyager is set at a comfortable 7, and it has a huge 165 cubic feet of passenger volume, one of the largest minivans in history. Cargo capacity is set at 140.5 cubic feet. Thanks to greater customization options via packages, you can always add that little something extra to your L or LX. There's a UConnect 4 system this year that measures in at 7-inches, and that's a high step up from prior systems. The flexibility to say no to some features and yes to others is one of the most exciting things about buying a minivan. Kids love these family fun wagons, and thanks to a long driving range, parents love it even more.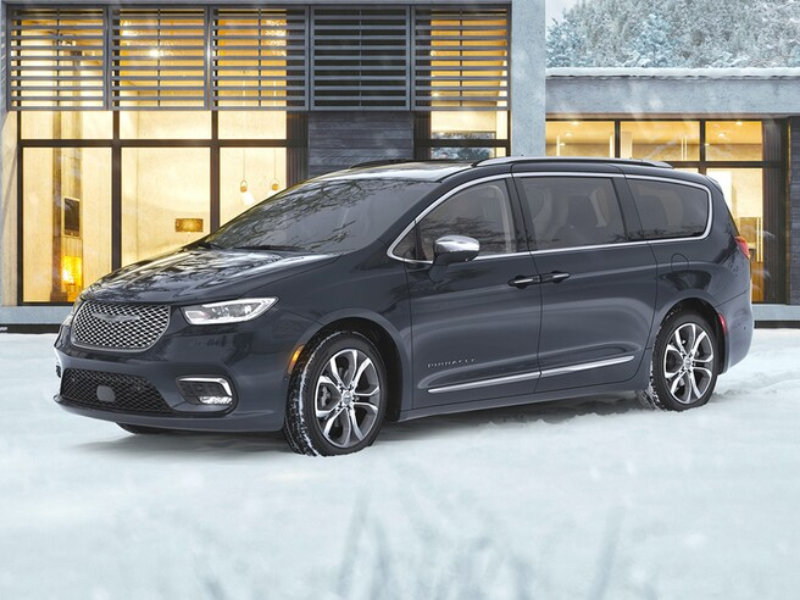 Brad Deery Motors is festively serving Quad Cities Cedar Rapids Maquoketa Iowa with great savings on the 2021 Chrysler Voyager Trim Levels in Iowa. Contact us today for deals and information. Our team will be happy to assist you in crafting the perfect family fun minivan for your entire family. Check back frequently to see if Chrysler adds anything new to your Chrysler Voyager offerings.