New Cadillac 2021 Cadillac Escalade Trim Levels in Iowa for Sale in Maquoketa IA l Davenport l Dubuque l Cedar Rapids
2021 Cadillac Escalade Trim Levels in Iowa
View Inventory


Cadillac calls it theeir most "technologically advanced Escalade ever." That's a bold statement to make for an SUV that has always been on the cutting edge of technology. How do you trump perfection? Cadillac is leading the way with their new Escalade. Brad Deery Motors wants to share our review of 2021 Cadillac Escalade trim levels with you as our way of serving Quad Cities Cedar Rapids Maquoketa Iowa with information that helps making a choice easier. Shopping online for an Escalade is easy and comfortable! Let us help make your decision a happy one. Full-size SUVs don't come any more elegant than the Escalade. It has set the standard for lavishness in the last decade. When you think luxury, you think Escalade.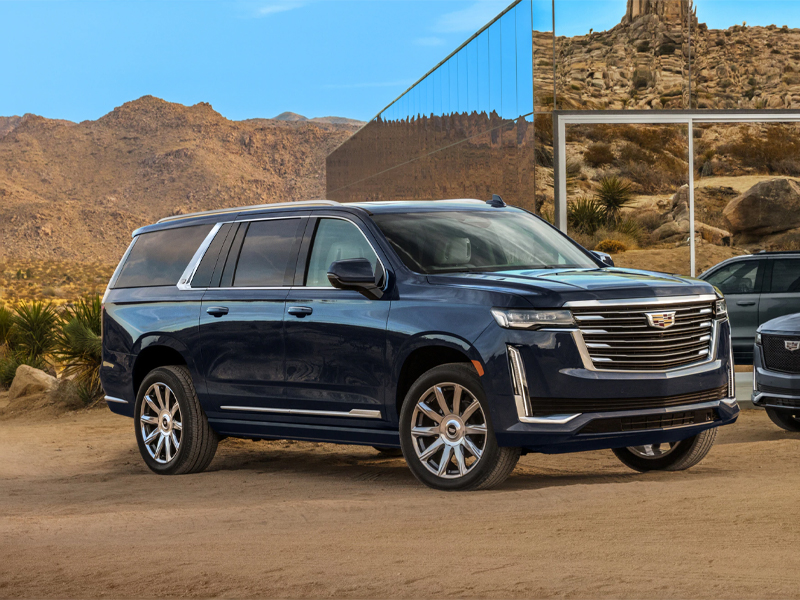 Luxury – Cadillac Dealer serving Maquoketa IA
The gorgeous 2021 Cadillac Escalade Trim Levels in Iowa rolls in with beautiful perforated leather seating in a quilted elegance that can't be matched. Tri-zone climate control, an AKG premium audio system, and keyless ignition with remote start all present the ultimate technology experience. There's also a 16.9-inch touchscreen infotainment center that is the ultrawide technology experience so many people have waited for in recent years. It's simply beautiful. For power, you'll get a 6.2″ V8 engine rated at 420 horsepower and 460 lb-ft of torque. You can upgrade to a 3.0L turbocharged diesel engine as well, rated at 277 horsepower and 460 lb-ft of torque. These engines run flawlessly with a 10-speed automatic transmission. Standard safety features include Forward Collision Alert, HD Surround Vision, and Rear Pedestrian Alert. You even get safety seat alert.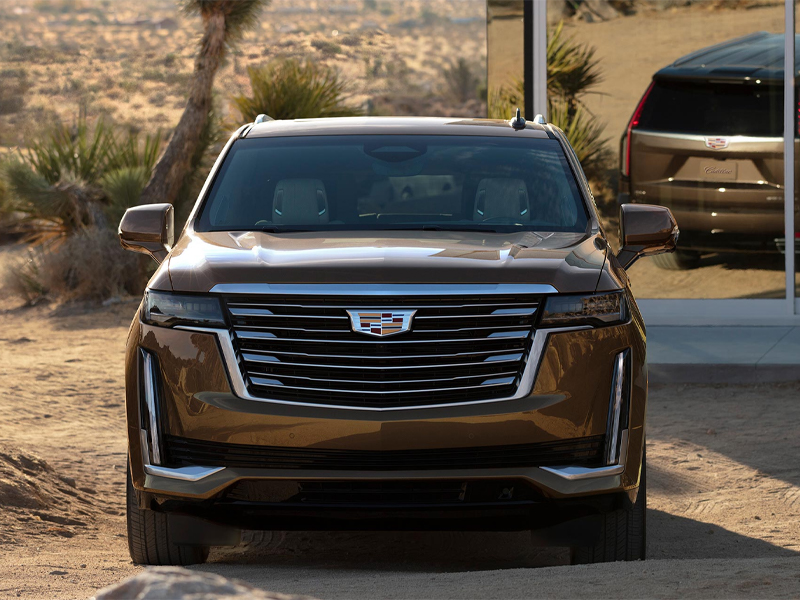 The 14.2-inch fully color/digital instrument panel is a driver's daydream. It features instrumentation that tracks all of your Escalade's most important technical specs and monitors the health of your vehicle. If you thought it couldn't get any better than the base level, you're in for a treat. All that was just the beginning. 2021 Cadillac Escalade trim levels get even better with the Premium Luxury, a trim serving Quad Cities Cedar Rapids Maquoketa Iowa drivers with features like a rear seat entertainment system for the kids or friendly crew, "soft close" doors that seem to float open and shut for you, and even an adaptive air suspension that adds a swifter touch to driving. A panoramic sunroof, full-color head-up display and 22″ 14-spoke alloy wheels with polished finish also give you an exterior stroke of luxury.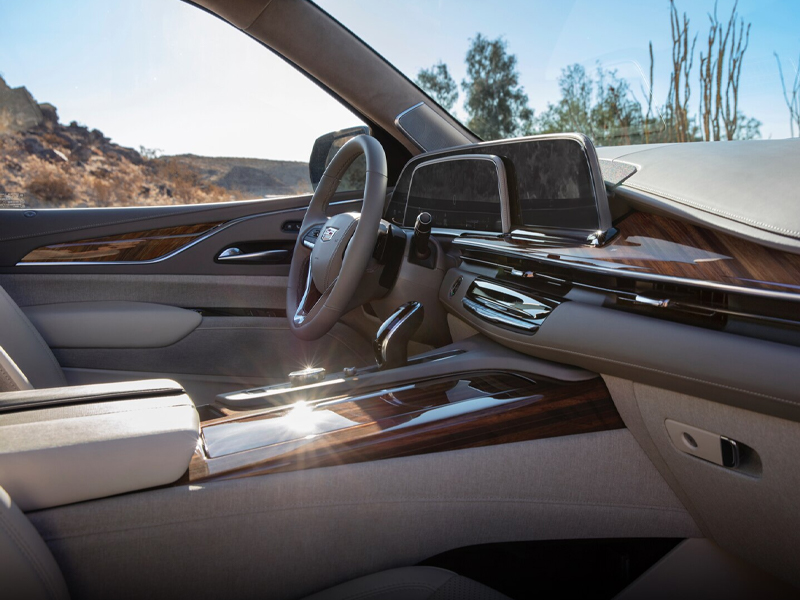 Sport – Cadillac Escalade
The Sport is – as the name implies – built for sportiness. Sport luxury is a uniquely Cadillac look. This trim features Gloss-black everything: roof rack, bodyside molding, liftgate trim, and even exhaust bezel. It also boasts 22″ 12-spoke polished alloy wheels with a deep, dark android finish that blacks out any unpleasant scenery and zones you in on just your Escalade Sport. Power Assist steps, 36-speaker AKG premium audio system, and an extra driver assist package is optional and highly recommended by the folks here.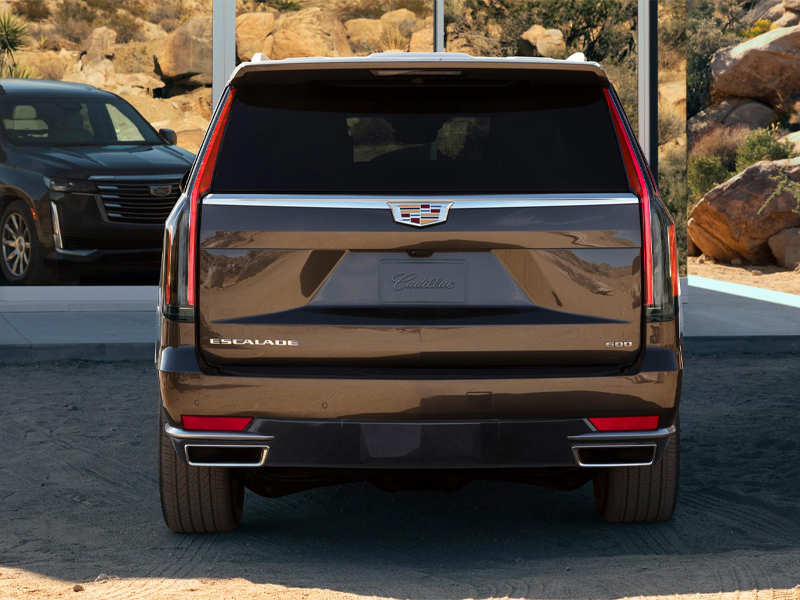 Premium Luxury Platinum – Cadillac Dealership in Maquoketa IA
A brand new near top of the line trim called the Premium Luxury Platinum is ready to please on all levels. This one brings everything and the kitchen sink to its game. It features Semi-Aniline leather seating, all leather-wrapped interior, a 16-way power driver seat with heating, ventilation, and massage features, and a rear seat entertainment system that has 12.6″ diagonal infotainment displays even for the folks in the back of the Escalade. The 22″ 10-spoke polished alloy wheels have a Dark Android finish AND laser etching for extra detail. You can add astonishing extras, to, like the console fridge with freezer mode (it's THAT fancy). Safety features that can be added on include Super Cruise and Night Vision, two features we recommend taking a look at. There's so much more to the Escalade than can be described in a brief rundown of trims.
Other trims: Sport Platinum. This trim is equipped with the higher-end, not on any other vehicle on earth today features. It gets the same outfit and set of features as the Premium luxury platinum, but it has several sportier options that enable you to craft an Escalade that's even more amazing than your standard trims. Stepping into one of these is like stepping into a 5-star resort. You won't ever forget owning one of these in the future.
The trims of the Cadillac Escalade are legendary in the industry, even among high-end luxury, performance SUVs. Getting a diesel engine option this year is a special treat. The Duramax 3.0L turbo disease is available even on the base model, so if you want to get the more "basic luxury resort" experience, you can still grab the diesel engine if that's your style.
We thank you for previewing the 2021 Cadillac Escalade Trim Levels in Iowa with us. Hopefully you've learned enough about this amazing vehicle to want to make it your own. When you're ready to test drive one of the finest SUVs ever crafted just for you, please give us a call or contact us online for more information. Our team will be happy to work with you so that you pay less for your luxury SUV this year. Just because you've got a lot of extra funds doesn't mean you want to spend them all on your Escalade. Contact us and save some money.