2020 Buick Regal Sportback in Maquoketa IA

View Inventory
Vehicle Overview
Starting at a shockingly reasonable price, the 2020 Buick Regal Sportback is one of the most pleasant values in the sedan market. Its confident posture on the road communicates its performance-oriented mindset, serving in Maquoketa Iowa City Davenport driving enthusiasts with a comfortable cabin and confident burst of speed and agility. Brad Deery Motors is thrilled to welcome the 2020 Buick Regal Sportback to our dealership this year and invites you to learn more about it. You won't regret getting to know this unusually affordable and unique sedan.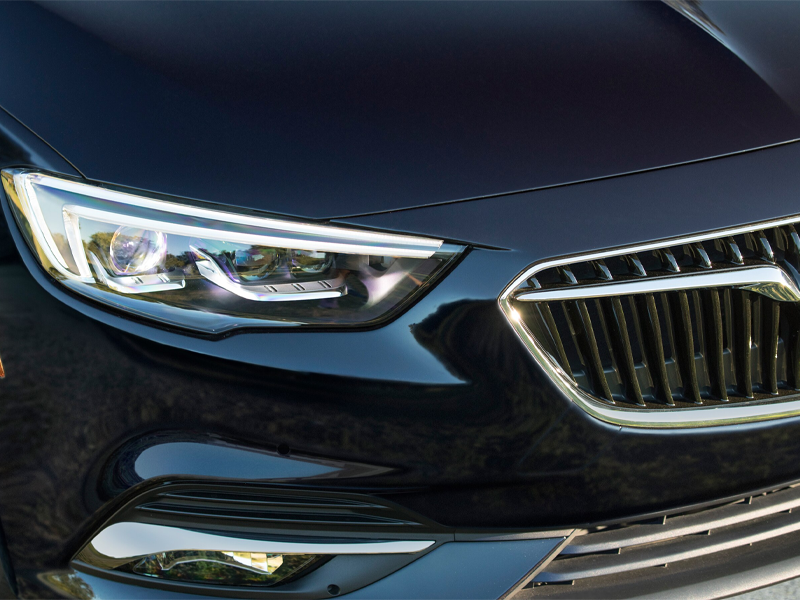 Exterior - 2020 Buick Regal Sportback
The exterior of the Sportback is one of its chief strengths. Its athletic look and short "sportback" really makes for an intriguing, special appearance. Headlights are sculpted in a unique wing shape with LED lighting that's signature and unique to the Buick Regal brand. You can even get "arrival sequences lighting" so be sure to ask us about that feature. It's neat. Upscale features include a power moonroof that opens up the outdoors to you and your passengers at the click of a button. And with 4 wheel choices, you can customize the Regal Sportback as much as you want. One of our favorite options is 18" 5-spoke dynamic aluminum alloy wheels. All around, this is one handsome sedan.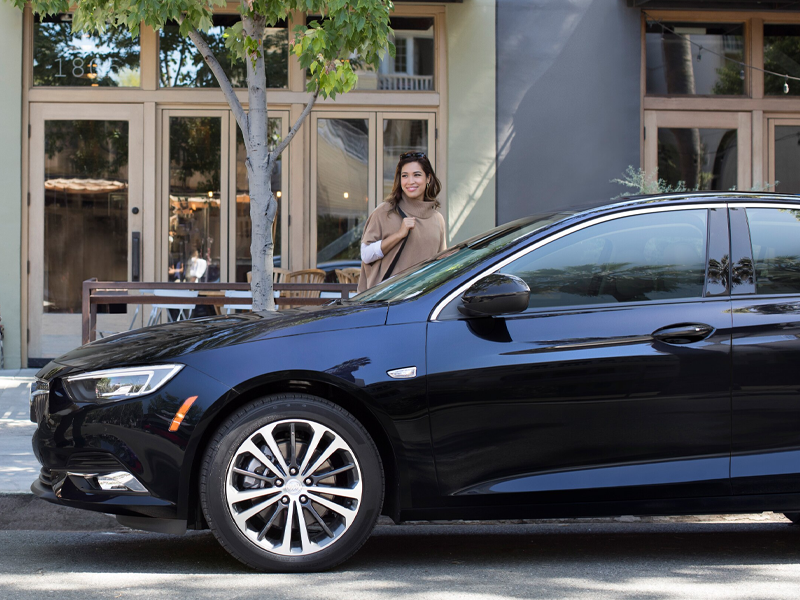 Interior - 2020 Buick Regal Sportback in Maquoketa
It's not a Regal unless it's working with serious luxury. We assure you that the 2020 Buick Regal Sportback in Maquoketa is definitely all Regal. With a generous 60.7 cubic feet of cargo capacity, seating for 5 people, and an optional 40/20/40 split-folding seat for added flexibility, this is a Regal that cares about its passengers and driver. Richly detailed with fine craftsmanship, everything in this cabin counts. With its soft ambient lighting for relaxation, a leather-wrapped steering wheel that's heated, and Quiettuning Tech that uses active noise cancellation to improve your atmosphere, this is a Regal that resonates with every kind of customer here at Brad Deery Motors. No wonder so many of you wanted to know more about the 2020 Buick Regal Sportback in Maquoketa.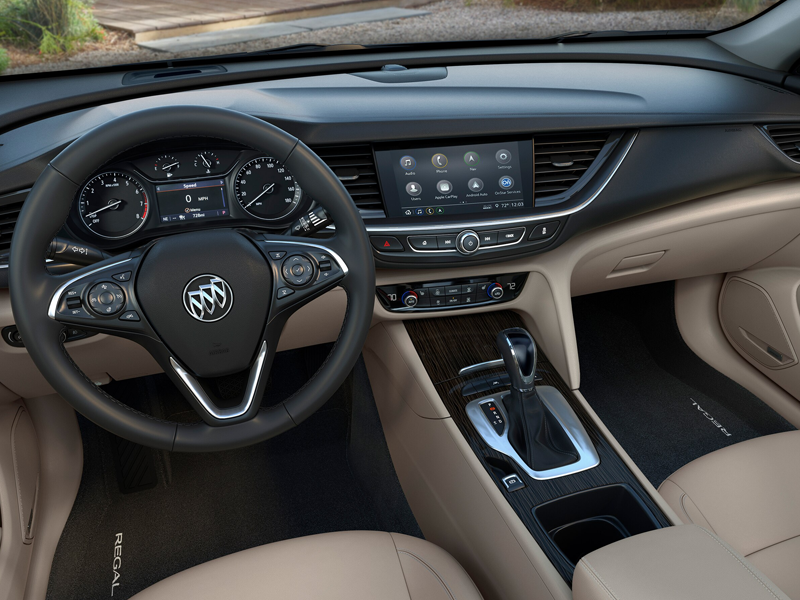 Mechanical - Buick Regal Sportback specs in Maquoketa
With such a sporty exterior, you'd guess right that the Regal is keen on performance as well. Its 9-speed automatic transmission comes with optional intelligent all-wheel drive and a beautifully set up active twin clutch. Cornering and acceleration in the Regal Sportback are excellent thanks to design and intelligent all-wheel drive. Your vehicle automatically knows how to respond to road conditions on the fly. Having a vehicle that intelligently responds to the road in a passive way like this is as much a safety feature as it is a mechanical feature. When your vehicle is aware of the elements and able to respond, you get a much better, smoother, and more exciting drive to appreciate everyday.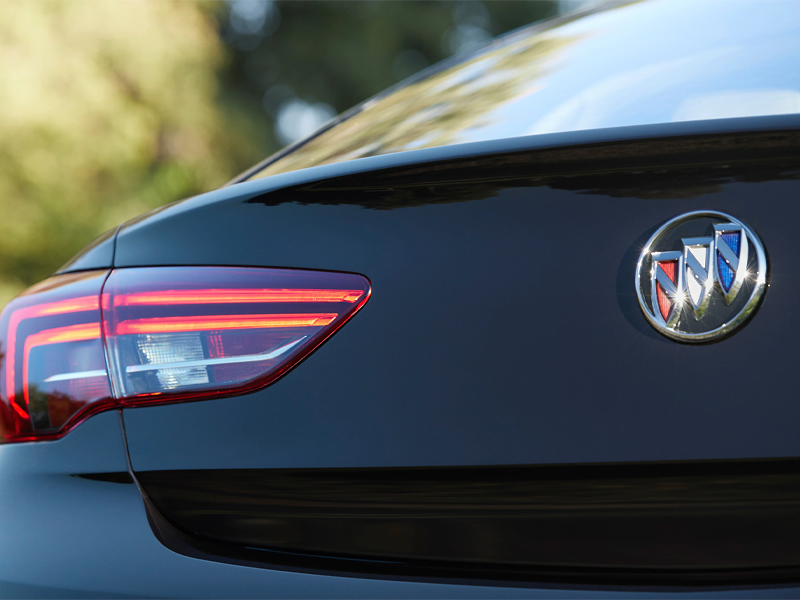 Powertrain - Buick Regal Sportback specs in Maquoketa IA
Horsepower on the Sportback clocks in at 250 HP via a 2.0L turbocharged engine. And when we say turbocharged, we mean it. This vehicle can really move! Buick thoughtfully balanced out performance with efficiency, though, giving you a powerful drive without cranking up your fuel bill. Thanks to a well-balanced powertrain and drivetrain, you can count on the Regal Sportback to efficiently and powerfully perform at all twists and turns. We've give out more than a few test drive of the new Sportback, and we assure you that customers are thrilled with the new power of this one. You can really feel the acceleration! It's a fun drive.
Safety - 2020 Buick Regal Sportback dealer
Life is unpredictable, so your vehicle's safety systems need to be designed for those unpredictable events on the road. The Buick Regal Sportback is prepared to intelligently respond to anything that threatens the safety of your vehicle on the road or while you're parking. Favorite features include Lane Change Alert with side blind zone alert. When you're changing lanes, the Regal Sportback is monitoring the situation, making sure that nothing is in your path. Front pedestrian braking is another one of our favorites. If a collision is pending at less than 50 MPH, then your vehicle can reduce speed to avoid the collision or at least reduce speed. This can save someone's life. Rear cross traffic alert, Forward collision alert, and Enhanced automatic emergency braking are just a few more of the reasons you need to have a Sportback on your side out there. We'd also like to mention that the Sportback comes with OnStar Safety and Security, keeping you safe on the road and then protecting your Regal Sportback from intruders while it's parked as well. With Automatic Crash Response and Roadside Assistance features, Buick has your peace of mind at heart in all of its safety and security platforms.
Contact Us Today - 2020 Buick Regal Sportback dealer
Thanks for letting us keep serving in Maquoketa Iowa City Davenport customers with specials and financing incentives on models like the Regal Sportback. In a world where so many sedans get complacent, this one never stops innovating. Just stepping into a Sportback gives one a feeling of freedom and optimism. Believe it or not, the little things everyday do make a difference in how you feel, and we believe that the Regal Sportback is a perfect car to observe and live life in. Please call us today if you agree and would love to step into a Sportback for a test drive.