2019 RAM 2500 in Maquoketa Iowa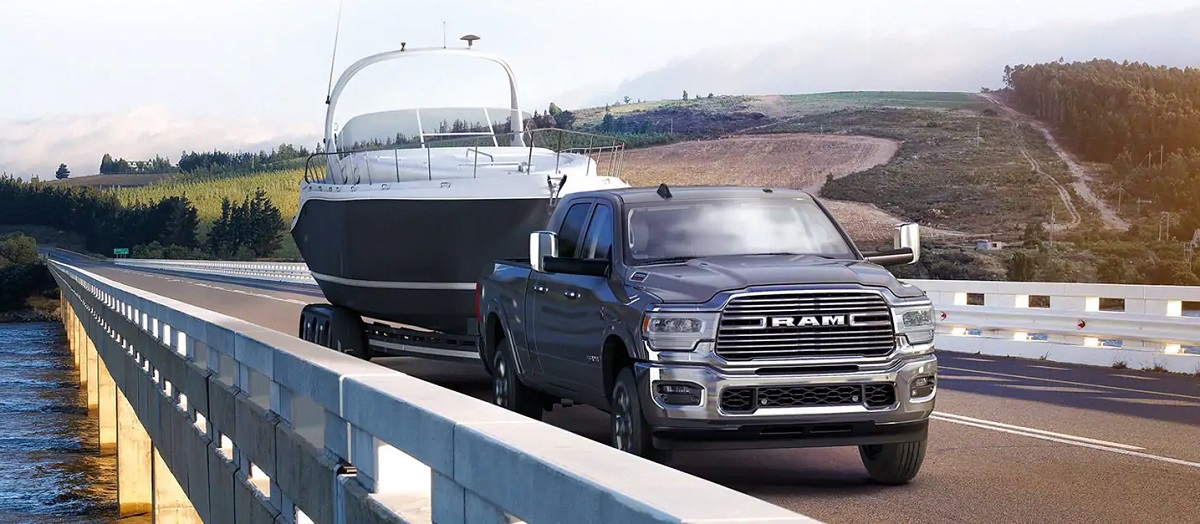 View Inventory
Vehicle Overview
The 2019 RAM 2500 continues to evolve as a heavy duty truck that has best-in-class towing and can carry up to 7,680 pounds and is available at Brad Deery Motors. It not only looks masculine and intimidating with its appearance but has set a higher standard for its performance by boosting its power capabilities under the hood. When reviewing the 2019 RAM 2500 in Maquoketa, there are a few main features to review to learn why it stands out in the industry and why you should test drive it at Brad Deery Motors as we continue serving Maquoketa Dubuque Davenport Iowa.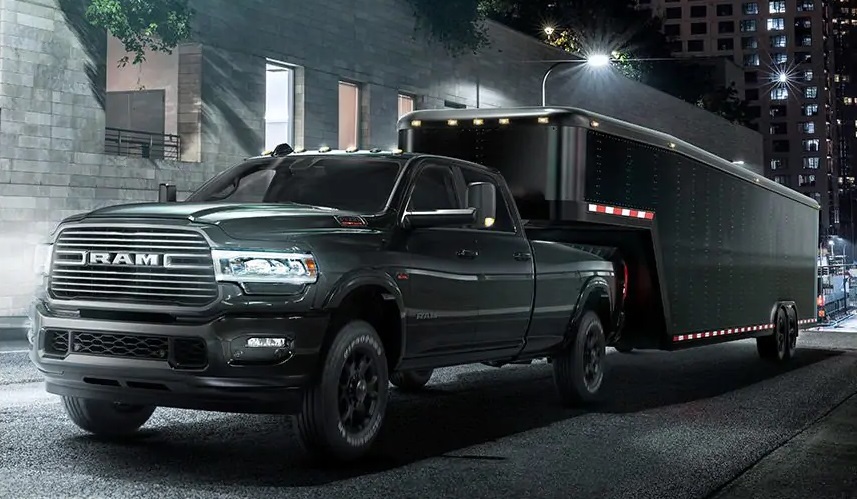 Exterior - 2019 RAM 2500
The exterior of the 2019 RAM 2500 in Maquoketa is striking but still stays true to its classic good looks with an oversized chrome grille and horizontal headlights. It's built with a new frame that is constructed with 98.5 percent high-strength steel, which is designed to be stronger, stiffer, and lighter. The exterior styling resembles the smaller 1500 with its high stance. It's available as a two-door regular cab, as a four-door crew, and as a four-door mega cab.
A bed-lowering mode has been added to the pickup truck for added convenience when loading up tools or equipment into the bed of the vehicle. It has a maximum towing capacity of 35,100 pounds, which is 4,000 pounds more than its predecessor. The truck also includes a factory lift kit, a 12,000-pound winch, and front and rear differentials. You can see the truck in person and how the features work at Brad Deery Motors.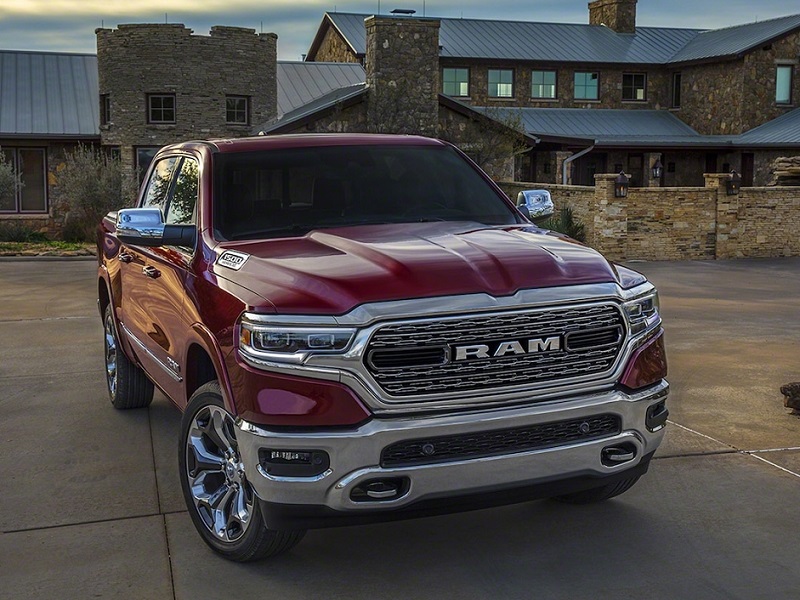 Interior - 2019 RAM 2500 in Maquoketa
Inside the cabin, drivers can enjoy a 12-inch touchscreen, which is the largest touchscreen offered in a heavy duty truck and proves to be user-friendly with the 2019 RAM 2500 in Maquoketa. The screen features crisp graphics and is easy to use as it responds quickly to commands. The backup camera is a useful safety feature that makes it easy to have more visibility and more accuracy when hooking up a boat or an additional car to the tow. Dodge has also improved the quality of all of the switchgear that's included with leather upholstery included for a regal and luxurious touch. Wood trim is an additional luxe feature that looks masculine but contributes to the comfortable setting. The back seat is the same size as the predecessor and has more legroom than the 2500 crew cab. The back seats can also recline for added comfort while boosting the amount of legroom that is provided. USB ports and a 110 outlet are also available in the backseat to ensure that passengers can keep their devices charged while on the go.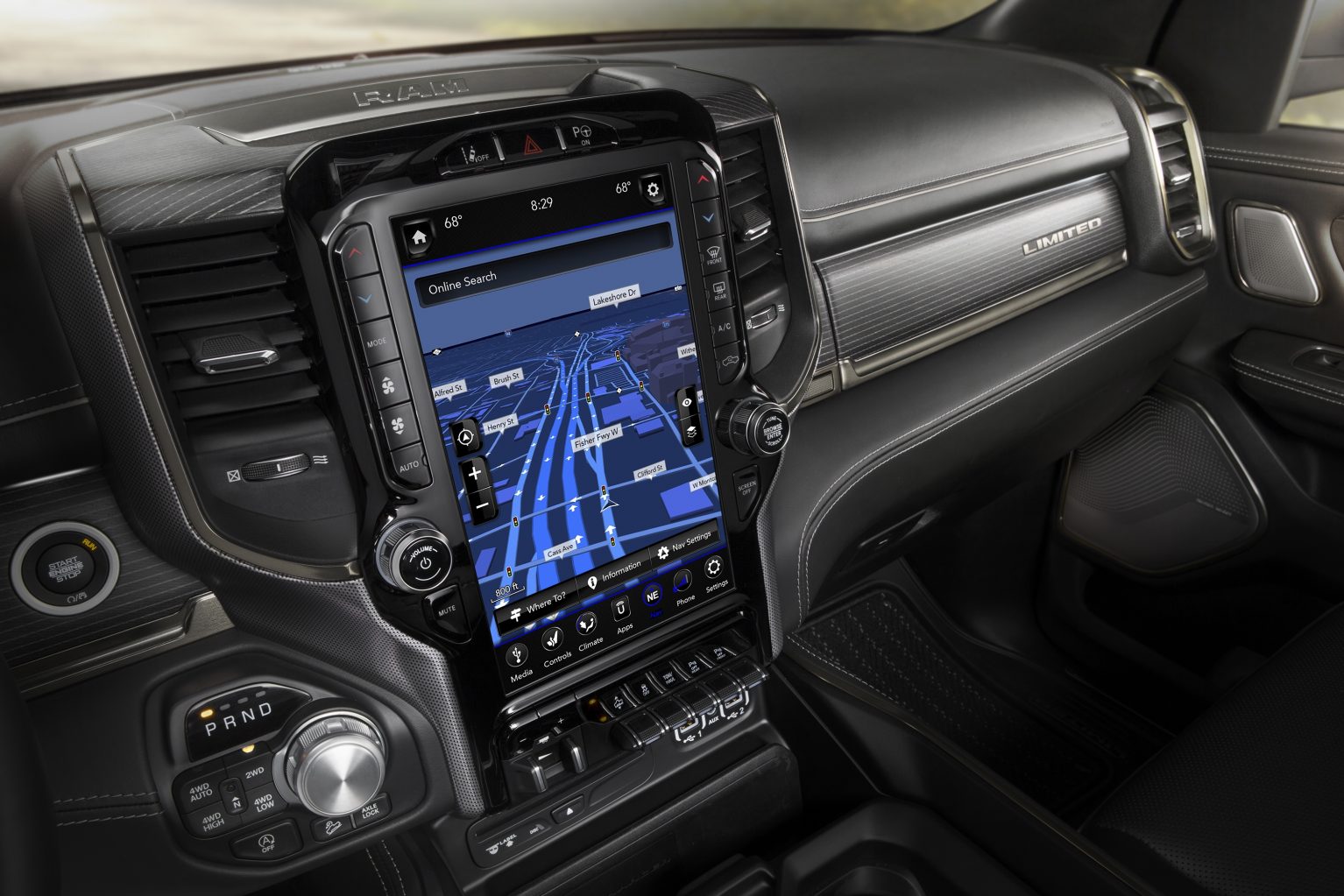 Drivers can also take advantage of a Swiss Army knife center console, which includes different compartments and can be opened in multiple ways. A wireless charging pad offers convenience on the dashboard, as well as side pockets on each side of the center console to store papers or miscellaneous items. The dashboard is minimal with the right features and controls available without appearing cluttered.
The cabin offers a quicker setting with special acoustic glass and active-noise cancellation systems. Road and wind noise are muffled to create a comfortable interior setting that is relaxing, especially for long drives. Outward visibility in the front and backseat is also excellent due to the large windows that are provided.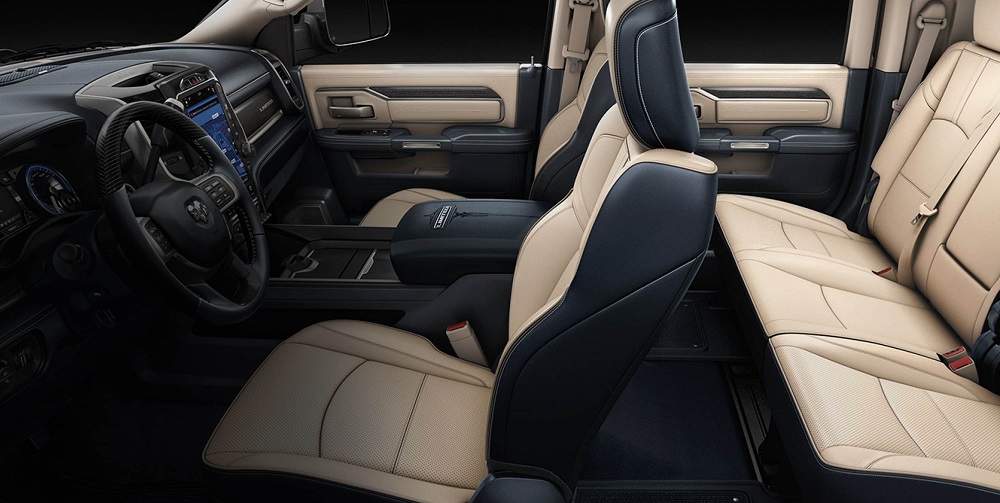 Mechanical - RAM 2500 specs in Maquoketa IA
A six-speed automatic transmission that was used in the previous model has been replaced with an eight-speed automatic transmission for more power. The vehicle is designed to tow long distances without compromising its power or composure. Those who get the gasoline V8 can take advantage of a rotary shifter, but the diesel trim has an eight-speed automatic that is controlled by a column shifter. It even has air suspension to ensure that a smooth ride is delivered, even when enjoying a few off-road adventures.
The truck feels comfortable and controlled on different types of terrain, which improves its versatility and ease of use. The car doesn't hesitate to accelerate quickly or tackle steep inclines due to its power, which offers plenty of joy rides.
Powertrain - RAM 2500 specs in Maquoketa
1,000 pound-feet of torque is offered with the new 2019 RAM 2500, which delivers a lot of lightning. The vehicle delivers 370 horsepower for the standard engine. With the turbo diesel engine, a new pump, a new black, and new heads to produce 400 horsepower. The turbo is the same product used in the predecessor but with improved airflow on the compressor side for more air that is put into the equipment. There's also the addition of a new high-pressure pump for increased fuel flow.
Safety - 2019 RAM 2500 dealer
A safety suite is included in the new RAM 2500 with automatic emergency braking, which is unique because it involves the trailer brakes. Adaptive cruise control is also provided to keep the vehicle a safe distance from the car in front of you. It also includes LED headlights, rain-sensing windshield wipers, and automatic high beams for improved visibility, which allows it to have a unique set-up in a heavy duty truck in Maquoketa Iowa. A blind spot warning is also included to avoid a collision while driving in Maquoketa Iowa.
If you want to learn more about the 2019 RAM 2500, contact us to speak to a representative and schedule a test drive in Maquoketa Iowa as we continue serving Maquoketa Dubuque Davenport Iowa. You can get a firsthand look at the truck and also learn about our financing options that are available as we continue serving Maquoketa Dubuque Davenport Iowa.