2019 RAM 1500 VS 2019 GMC Sierra 1500 in Maquoketa IA

View Inventory
2019 RAM 1500 VS 2019 GMC Sierra 1500
The 2019 RAM 1500 features premier light duty truck innovations such as a multifunction tailgate and a lighting system that knows how to work with you. Brad Deery Motors praised this truck from the moment it rolled onto our lot, but we realize that even the 1500 has competitors (and fine ones at that). Take for example the 2019 GMC Sierra 1500. It's a fine truck in its own right, offering GMC designed work perks that comparable trucks wouldn't even think to offer. In Maquoketa Iowa, we love our trucks, and we're here to show you just how the 2019 RAM 1500 vs 2019 GMC Sierra 1500 race plays out. Learn about all the reasons you need to make RAM's 2019 creation your next light duty pickup truck. It's a sleek exterior with brand new aerodynamic features. It's packed with safety, technology, and a true work ethic instilled right into every design decision.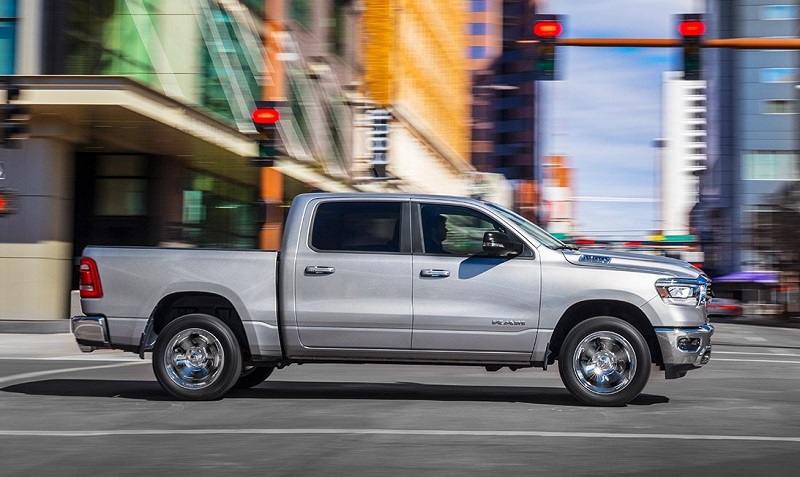 Towing Power - 2019 RAM 1500
A light duty pickup truck that offers a 5.7-liter HEMI® V8 engine is a special light duty truck indeed. The RAM 1500 offers you this and manages to also offer an enormous class-leading 12,750 pound maximum towing capacity, a number that the Sierra 1500 could hardly be expected to keep up with. For its part, the Sierra 1500 only offers you up to 9,700 pound towing capacity, and we'd argue that this number would be inferior to a few other trucks out there, not just the RAM's 1500. Why did GMC decide to leave the Sierra 1500 so woefully low on towing power? We're not sure. What we are sure of is that RAM didn't leave out this little detail, and that you can look forward to massive amounts of towing power with your RAM 1500. Tow boats, campers, and just about anything else you need to tow. You'll never have to worry about being short of towing power with the RAM 1500.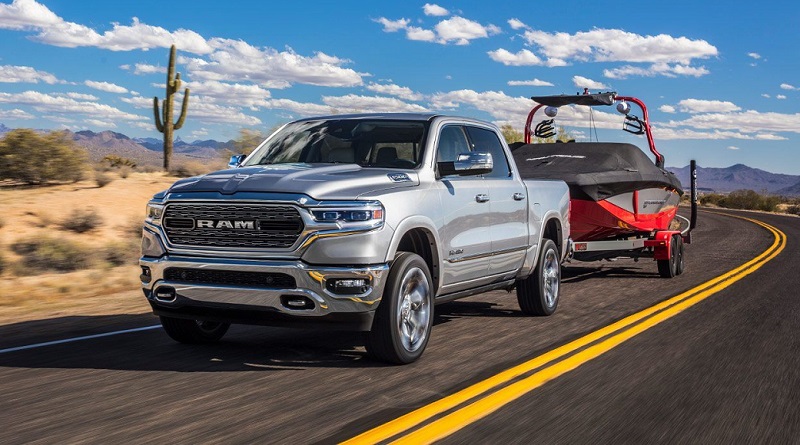 Interior - 2019 RAM 1500 in Maquoketa
Controlling your connectivity on the go is an important consideration for any automaker today. Customers want a robust touchscreen dash that is vibrant, lively, and capable of both entertaining and helping with navigation. Only the RAM 1500 covers this category! You'll get a UConnect 12-inch touchscreen dash as optional, or an 8.4 inch touchscreen dash as standard on lower trims. Both of these options are still bigger than the 8-inch touchscreen offered by the 2019 Sierra 1500. An 8-inch touchscreen on a light duty pickup truck is still a generous offering by GMC, but even luxury sedans have a difficult time keeping up with the interior tech of the RAM 1500 models. It's a world apart, offering voice recognition, connectivity features, premium audio, and so many other highly advanced interior technology features. Few trucks could keep up. RAM's decision to bring the RAM 1500 into the modern world with interior technology has been the delight of every truck owner in the world for a couple of years now, but they've never done it as perfectly as they did in 2019.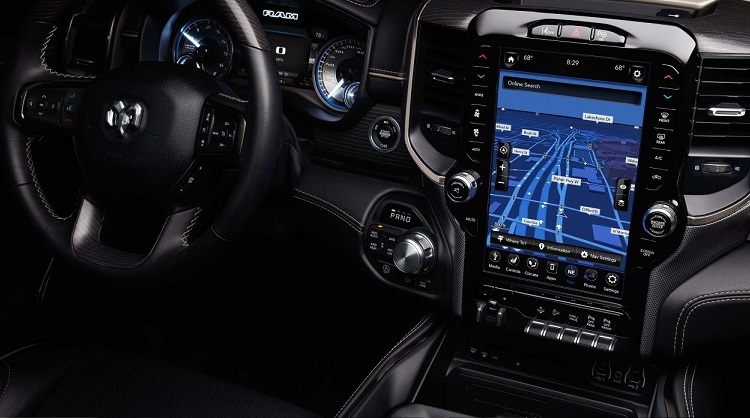 Cargo Management - RAM 1500 specs in Maquoketa
Brad Deery Motors knows that our truck customers in Maquoketa Iowa expect cargo solutions that take care of their long hauls. Your 2019 GMC Sierra 1500 offers a standard hauling experience, with a respectable maximum payload and general pickup truck type tie downs and what not. Your RAM 1500 comes with an optional RamBox Cargo Management System, long thought to be the standard for its innovation. If you want to haul cargo without weighing your truck bed down, it's the RamBox that will give you LED lighting for nighttime work, along with three power outlets and enormous amounts of extra storage space. Consider it Ram's little invention for you industrious truck drivers out there who need to take a lot of things with you when you go out on adventures or work duties. The RamBox just looks nice on the truck as well, giving you a true rugged outdoorsman vibe that far surpasses the exterior of the plain old Sierra 1500. For us, it's the RAM model all the way.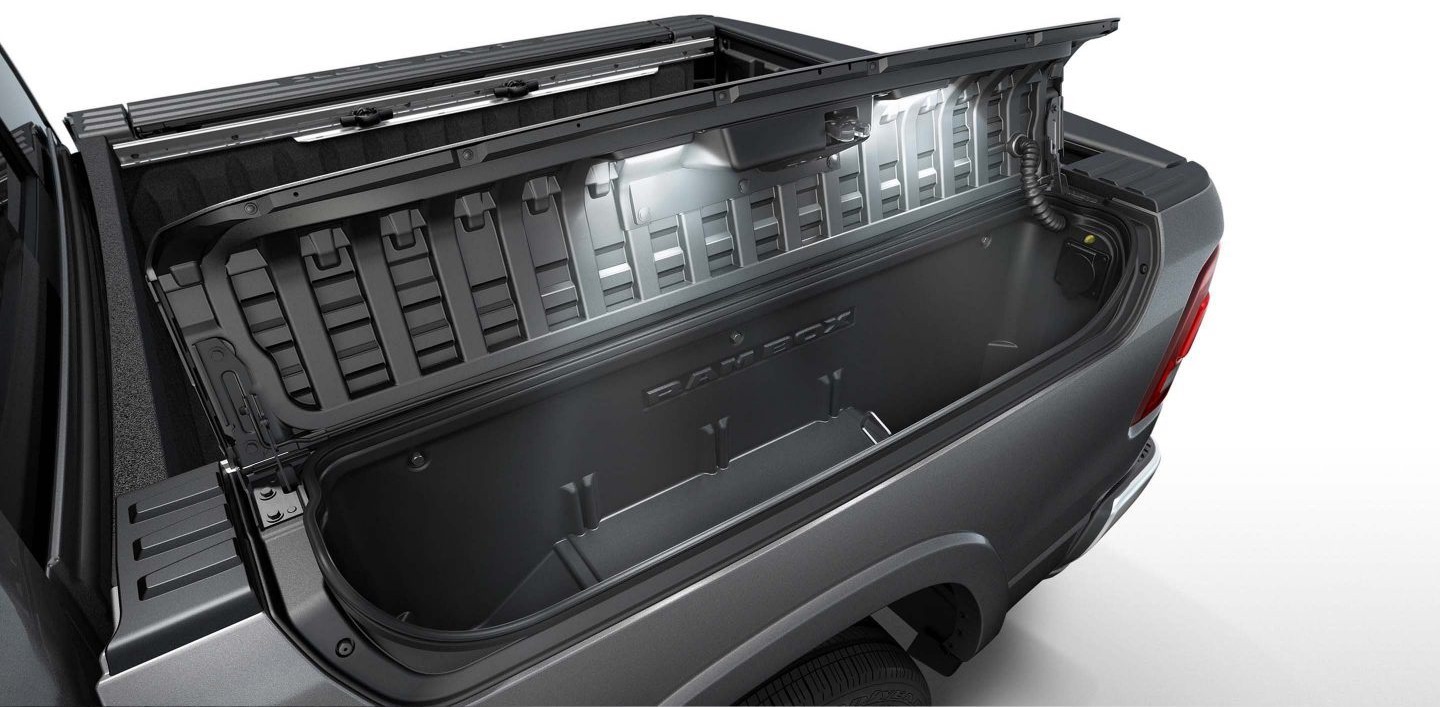 The Winner: 2019 RAM 1500
Your RAM 1500 is equipped with huge amounts of towing capacity, cargo space, and interior technology you'll usually find only on high-end luxury sedans. You don't have to own a sedan to grab a 12-inch touchscreen anymore. You can just buy RAM's 1500 and sail away into the sunset, playing with your Android Auto and Apple CarPlay apps, or perhaps integrating everything with your smartphone so that you have a constant connection to your beloved RAM 1500. GMC did their best to keep up with RAM's prized possession in the light duty truck world, but they just couldn't manage it in 2019. If you want to own a RAM 1500, and we hope that by now you realize you need one of these beasts, please just call us today to schedule a test drive of the winner of our comparison here. We're always available for full test drives. Play with the 12-inch touchscreen, see what the RamBox looks like up close, or perhaps test out the RAM 1500's multifunction tailgate that's changing the game of loading for truck owners. We're always ready for a spin in this beautiful light duty pickup truck. Call or write to us today with questions or to schedule a visit!